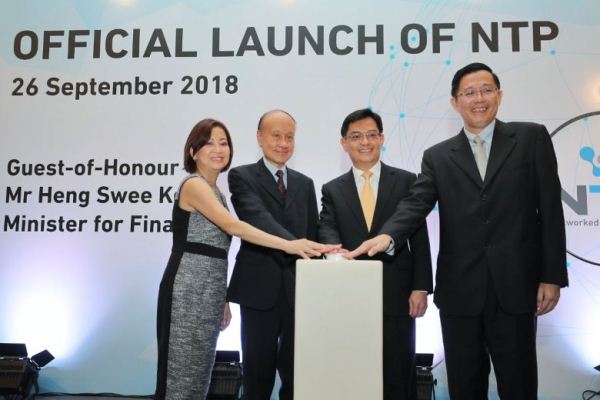 Singapore unveiled September 26 the Networked Trade Platform (NTP), its new one-stop trade platform to help digitalize and streamline end-to-end trade processes for traders, logistics service providers, carriers, and banks.
The NTP will serve as the trade and logistics info ecosystem to support digitalization and connect players across the trade value chain in Singapore and abroad as the country aims to become a leading trade, supply chain, and trade financing hub, said Singapore Customs in a statement.
To date, close to 800 companies from various industries, including wholesale trade and logistics, have signed up as NTP users.
Minister for Finance Heng Swee Keat in his keynote address during the launch said: "NTP is a transformational platform, which will take us from a traditional national single window which gives traders a one-stop interface for all trade related regulatory transactions, to a one-stop interface that will enable them to interact with all business partners, stakeholders and regulators on trade related transactions."
"This will help companies raise productivity, boost competitiveness, and uncover new opportunities," he added.
By bringing players across the trade value chain onto a single platform, the NTP enables end-to-end digital trade, he continued.
The NTP offers a wide range of commercial value-added services (VAS) and government services to help traders improve their operational efficiency.
"This unique blend of business-to-business and business-to-government services on one integrated platform will link up digital silos across industries, enable traders to reuse digitalized data, and allow development of new innovative services," said Singapore Customs.
Traders can tap on a range of trade-related VAS such as cargo freight booking, trade financing, cargo insurance, customs declarations, and payment reconciliation, allowing them to arrange shipments easily, improve cash flow, and better manage trade compliance, all on one platform.
Four government services are also available on the NTP, and more will be progressively introduced. These four are certificate of free sale, certificate of non-manipulation, import certificate and delivery verification, and landing certificate.
Three more government services will be migrated to the NTP in the coming months: cargo agent's import authorization scheme, vessel registration, and Kimberley Process License.
At the same time, several initiatives are underway to strengthen trade linkages of the NTP internationally.
For instance, Singapore Customs is in discussion with China Customs to link up their single window systems to facilitate trade declarations and smoothen trade flow for businesses, and with the Customs Administration of the Netherlands to explore ways to achieve greater connectivity in trade regulatory processes by leveraging on technology.
Additionally, the NTP is in collaboration with MUFG Bank and NTT Data Corporation on a proof-of-concept which connects NTT Data's prototype platform using blockchain technology with the NTP, to facilitate secure and efficient cross-border trade data flows.
The NTP is developed by Singapore Customs and the Government Technology Agency of Singapore, with the support of over 20 other ministries, government agencies, and working groups.
Photo courtesy of Singapore Customs