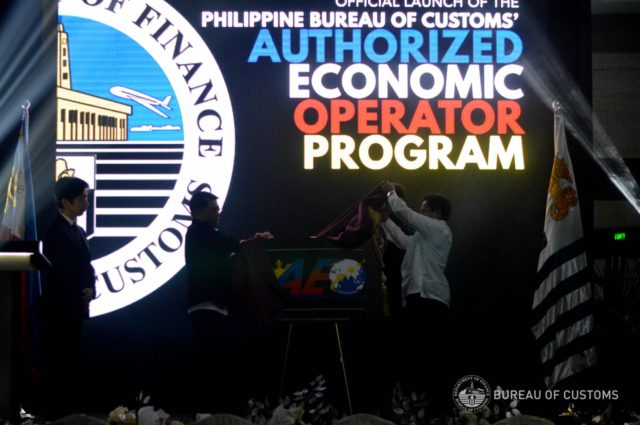 The Philippine Bureau of Customs (BOC) formally launched on Dec 2 its Authorized Economic Operator (AEO) Program for full implementation next year.
Customs commissioner Rey Leonardo Guerrero, in a speech during the launch on December 2, said the implementation of AEO is in compliance with the country's commitment to the World Customs Organization's SAFE Framework of Standards to Secure and Facilitate Global Trade, which represents a customs-to-business partnership that seeks to enhance international supply chain security and facilitate movement of legitimate goods.
The AEO program is part of Republic Act No. 10863, otherwise known as the Customs Modernization and Tariff Act, signed in 2016. Its implementation comes under BOC's plan to enhance cargo clearance procedures and examination capabilities under its 10-point priority program for 2019.
In 2017, BOC issued Customs Administrative Order (CAO) No. 05-2017, which establishes an AEO program by providing the infrastructure, facility, mechanism, process, and benefits necessary for full implementation.
READ: BOC order specifies rules for AEO setup in PH
Stakeholders eligible to apply for accreditation under the program include importers, exporters, customs bonded warehouses and customs facilities and warehouses; non-vessel operating common carriers, freight forwarders, international freight forwarders with offices in the Philippines, shipping lines and airlines and their agents, authorized agent banks, local transport operators and their facilities and equipment; and foreign suppliers, manufacturers, and other entities in the logistics and international supply chain accredited as AEOs by another country with which the Philippines has a mutual recognition agreement (MRA).
In a presentation during the launch, Atty. Clarence Dizon of BOC's Legal Service, said the customs bureau will pilot test the system with importers; initial target applicants will include Super Green Lane (SGL) member companies and importers and exporters whose parent companies are already accredited under any foreign country's AEO program.
Dizon said that while BOC expects SGL companies to be first in line to apply under the program, other interested importers are welcome to submit their letters of intent to join.
The SGL is a special facility with multinational companies and top corporations as members. They are accorded the privilege of advance processing and clearance of shipments since their shipments are considered low-risk.
While BOC is still setting up its AEO portal, available on BOC's website by the second week of December, applications for the program may already be submitted to the Assessment and Operations Coordinating Group.
The program will be implemented in all ports and will eventually include other stakeholders. BOC will establish an AEO Office that will manage the program's overall implementation.
BOC's AEO program will have three components: cargo security system (CSS), trade clearance facility (TCF), and MRA.
CSS ensures the integrity and security of imported goods in accordance with the principles of the WCO SAFE Framework, while TCF enables highly compliant stakeholders to clear their goods with minimum or zero customs border intervention. MRA refers to a formal document between two or more customs administrations outlining the circumstances and conditions in which AEO programs are recognized and accepted between the signing parties.
The BOC needs to operationalize the AEO Program first in order to enter into an MRA with another country or customs administration, as the AEO Program implementation, evaluation and maintenance will be the basis of the mutual recognition.
Guerrero said BOC eyes conducting MRAs with its ASEAN neighbors next year.
The processing of AEO applications will be on three levels.
Benefits of a Level 1 member include exemption from renewing accreditation, self-assessment, supplementary goods declaration, and a dedicated help desk.
For Level 2 members, benefits include those for Level 1 plus a dedicated processing lane, advance clearance process, periodic lodgement, one-time exemption certificate, and expedited customs clearance for exports.
A Level 3 member will have extended additional benefits that the customs commissioner, in consultation with the AEO Office to be created, will identify. A corresponding customs order will be issued for the additional benefits of Level 3 members.
BOC noted that AEO members may still be subject to post-clearance audits to ensure compliance.
Once approved, accreditation will last unless suspended or revoked based on the degree of culpability and resulting injury to the government. BOC will establish a formal procedure for suspending or revoking the accreditation of AEO members.
The SGL and AEO programs will initially co-exist but the latter will eventually replace the former once all SGL members have migrated to AEO.
Legal Service acting director Atty. Maria Yasmin Mapa said there is a proposal to impose an application fee of P5,000 per application and annual supervision fee of P12,000 for small enterprises, P48,000 for medium enterprises, and P60,000 for large companies. Dizon noted such proposed fees are less than those charged under the SGL program. The P2,500 per transaction collected from SGL importers will also not be collected from AEO members.
Asian Development Bank trade facilitation team leader Stephen Cox made a pitch for the AEO program, saying while the SGL program is good, it is not an internationally accepted best practice like the AEO.
BOC Planning and Policy Research Division chief Atty. Noemi Garcia also noted benefits of the SGL program are only enjoyed in the Philippines; AEO members enjoy privileges not only in the Philippines but in countries where the Philippines has an MRA. This, she added, can help companies expand their businesses to other countries.
It is not mandatory for importers and exporters to engage the services of AEO-accredited service providers but this is highly encouraged, said BOC, since MRAs with other countries may require such an arrangement to ensure the whole supply chain is secure.
Corresponding customs memorandum orders implementing CAO 05-2017 will eventually be issued, with rules on AEO implementation for importers and exporters rolled out first. – Roumina Pablo