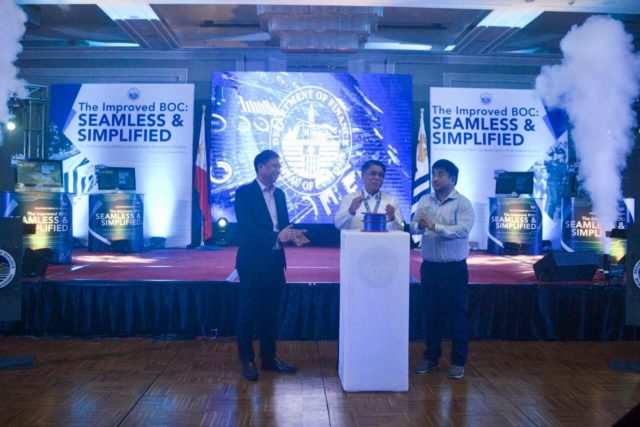 The Philippine Bureau of Customs (BOC) has launched six computerization projects aimed at streamlining customs processes and operations.
"Through consultations and dialogue with various concerned stakeholders, we have put together new programs and customer-oriented processes to ensure that our work is done with more efficiency and transparency," Customs commissioner Rey Leonardo Guerrero said in a speech during the official launch of the projects on June 17.
The six are the Document Tracking System (DTS), BOC Customer Care Portal (Ticketing System), Dashboard System, Goods Declaration and Verification System (GDVS), National Value Verification System (NVVS), and Alert Order Monitoring System (AOMS).
In a media briefing after the event, Guerrero added that the goal of the systems is to "minimize [and] eliminate [the] opportunity for corruption" by limiting human intervention.
Guerrero noted that the in-house systems were pilot-tested in select ports for a few months to de-bug them and eliminate glitches before full implementation. The programs are under one of BOC's 10-point Priority Program, which aims to enhance the agency's information and technology system and cargo clearance process.
Guerrero noted that BOC's full-scale modernization "takes time and resources to implement but in the meantime, hindi naman natin pwedeng sabihing ipagpaliban na lang muna [we cannot just postpone modernization] so we have to initiate at our level…for us to improve our performance."
The Customs chief said BOC is already working closely with the World Bank and other service providers on a full-scale modernization program. Earlier, he said BOC plans to conduct a feasibility study on implementing a project proposed two years ago by the World Bank. The project, which seeks to modernize operations and automate systems at the customs agency, is one of the options being considered for the bureau's automation plan.
One of the programs, GDVS, is a web-based queue management system that allows stakeholders to get real-time updates on the status of their goods declaration. It features random assignment of import entries to examiners and appraisers; a first-in, first-out queuing system; audit trail; and direct access for stakeholders to make follow-ups withormessage assigned customs personnel for queries and concerns.
Guerrero said the new GDVS is the enhanced version of 1-Assessment, which was implemented in select ports in 2018.
Another project DTS is an online search facility for monitoring and tracking documents received and generated by various BOC offices by providing a QR code for the document. It aims to improve processing time of documents to comply with Republic Act No. 11032 or the Ease of Doing Business Act.
The BOC Customer Care Portal or Ticketing System allows stakeholders to electronically submit their concerns, complaints, feedback, or suggestions as well as upload documents using the portal. Created to promote ease of doing business in a secure manner, the system caters to various concerns including accreditation and renewal for importers and customs brokers.
An internal system not intended for public use, NVVS is for use by BOC examiners and appraisers to ascertain the truth or accuracy of any statement, document, or declaration presented for customs valuation.
The Dashboard is another tool for BOC officials "for common situational awareness". Aside from its data analysis component, the Dashboard's functions include a fusion center to encourage collaboration among BOC offices; a coordinating arm to relay feedback to concerned offices; and a tracking mechanism on key performance indicators of BOC.
The Alert Order Monitoring System lets customs officers track the status of alert orders from the time they are issued until they are resolved. The system allows BOC to fully comply with processing time requirements for alerts as provided under the Customs Modernization and Tariff Act. – Text and photo by Roumina Pablo