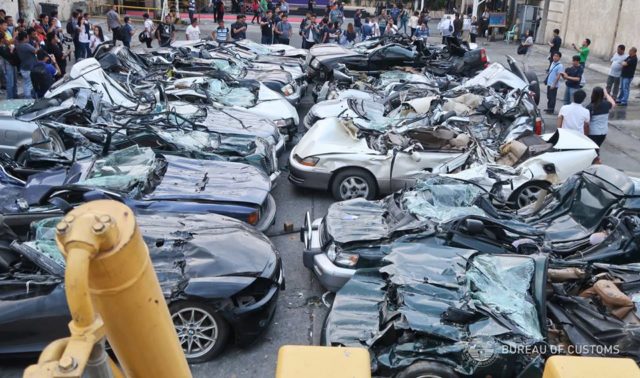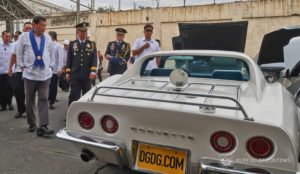 The Bureau of Customs (BOC) destroyed on Feb 6 a total of 30 smuggled luxury vehicles, with a value of more than P61 million, seized at the ports of Manila, Cebu and Davao.
President Rodrigo Duterte witnessed the condemnation at the Port of Manila along with Finance Secretary Carlos Dominguez III and Executive Secretary Salvador Medialdea. The event was part of the 116th founding anniversary ceremony of BOC.
In a later speech, Duterte said he prefers to destroy smuggled vehicles than sell them at public auction since the latter allows smugglers to simply buy back the seized items.
Of the 30 vehicles, 20 worth P61.626 million were destroyed at the Port of Manila. These include one Lexus, four BMW, two Mercedes Benz, one Audi, one Jaguar, one Corvette Stingray, one Honda Odessy, one Mini Pajero, one Mazda Roadster, one Mitsubishi MMC, one Toyota SW Towage Noah, one Ford Explorer Base 3.5L, one Nissan 350Z, and two units Pajero.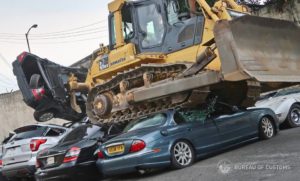 At the Port of Cebu, condemned were one Audi S5, one 20012 Jeep Wrangler, and one Mercedes Benz CLK 350.
The vehicles from Manila and Cebu were all pre-owned.
The Port of Davao destroyed one used Toyota Tundra, one used Mercedes Benz 2012 model, two brand-new units of Toyota Land Cruiser L200, one brand-new Mercedes Benz, and two brand-new units of Toyota Land Cruiser V8 2013.
BOC did not provide the estimated worth of condemned vehicles in the Cebu and Davao ports.