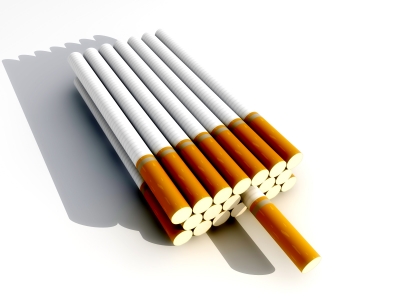 Separate teams from the Philippine Bureau of Customs (BOC) and the Bureau of Internal Revenue (BIR) have seized fake cigarettes worth over P1 billion and fake tax stamps worth about P175 million in taxes, along with raw materials, machines, and other paraphernalia for cigarette manufacturing, in separate raids conducted in Pangasinan, Pampanga, and Bulacan.
In a report to Finance Secretary Carlos Dominguez III, Customs Commissioner Nicanor Faeldon said four warehouses found to be producing counterfeit popular cigarette brands in Villasis, Pangasinan were raided recently by a composite team led by BOC, which resulted in the seizure of various materials for cigarette manufacturing and the arrest of 24 undocumented foreign nationals.
Both BOC and BIR are under the Department of Finance.
According to Faeldon, the raid on the warehouses inside the Villasis compound yielded over P1 billion worth of fake cigarettes, along with 11 cigarette making and packaging machines, 1,453 sacks of cut filter, 27 containers of menthol solution, 1,149 master cases for assorted brands of cigarettes, 22 trays of filter, 378 rolls of inner liner, 469 rolls of clear wrap, 2,173 reams of counterfeit BIR tax stamps, 88 pales glue, 1,251 packs of cigarette brand soft labels, four air compressors, and 3, 244 bundles of assorted master cases.
"District Collector (of La Union) Romeo Allan Rosales immediately issued Warrants of Seizure and Detention (WSD) against the said items. Additionally, 24 undocumented foreign nationals were found inside the compound and were turned over to BID (Bureau of Immigration) representative, Atty. Paul Versola (who) subsequently turned (them) over to the Alien Custodian Office in Poro Point, La Union," Faeldon said in his report.
In a separate report to the finance chief, BIR said it shut down the premises of an unauthorized manufacturer of various cigarette brands in Lubao, Pampanga and confiscated 5.5 million unused fake cigarette strip stamps worth about P175 million in excise tax and value added tax.
"The machines and other materials for tobacco manufacture were put under the custody of the NTA (National Tobacco Administration)," BIR regional director Jethro Sabarriaga said in his report to BIR Commissioner Caesar Dulay.
According to Sabarriaga, the owner of the feed mill raided registered with the BIR as a hog mill feed operator last October.
"The machines seized are capable of producing 200,000 packs of cigarettes per day and supplies and stamps in warehouse are estimated to be good for one month's production. The stamps appear to be imported and with Chinese characters," Sabarriaga said.
In yet another operation conducted by BOC, a separate team raided a facility in Marilao, Bulacan where unlicensed raw materials for cigarette production, among them over 500 boxes of cigarette filters, 100 sacks of tobacco leaves, reels of inner liner, cigarette paper, and packing film, were found.
Also confiscated at the site were counterfeit labels of cigarette brands manufactured by Philip Morris Fortune Tobacco Corp., while a certain Jayson Enero Li was arrested.
Earlier, Dominguez commended Faeldon and the BOC for successive arrests of suspected Filipino and foreign drug couriers found in possession of cocaine, carried out with the help of airport and drug enforcement authorities at the Ninoy Aquino International Airport (NAIA).
Dominguez also thanked the U.S. Drug Enforcement Agency for passing on vital information to NAIA authorities that led to the arrests.
Arrested by members of the BOC-NAIA Interagency Drug Interdiction Group (IADIG) in separate instances last October were Venezuelan Genesis Lorena Pineda Salazar; Brazilian Yasmin Silva; Chan Kawai and Pau Homanevan, both Chinese nationals from Hong Kong; and Kirdyushkin Yury, a Russian; and Filipino student Jon-jon Villamin.
The arrests led to the seizure of close to 44 kilos of high-grade cocaine combined.
Dominguez, in a statement, lauded the sister agencies for intensifying their unified campaign against the illicit tobacco trade and said such raids prove that the Duterte administration is serious about fighting corruption and other illegal activities.
"The BOC and BIR deserve to be commended for conducting without letup their campaign to rid our country of the illicit tobacco trade, which deprives the government of hundreds of millions of pesos in revenues yearly and eats up the market of legitimate manufacturers who abide by the law and pay their taxes regularly," Dominguez said.
"These sustained efforts show that the Duterte administration's campaign against corruption and other illegal activities would be pursued with the same zeal as its war against narco traffickers and illegal drugs," he added.
Image courtesy of Graphics Mouse at FreeDigitalPhotos.net