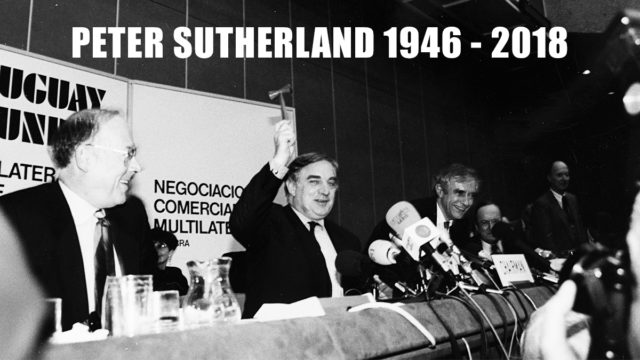 Peter Sutherland, the first Director-General of the World Trade Organization (WTO), has passed away in his home city of Dublin. He was 71.
Mr Sutherland took the helm of the General Agreement on Tariffs and Trade (GATT) in 1993 at a time when the outcome of the broad and complex Uruguay Round of global trade talks was very much in question. Under Mr Sutherland's energetic and determined leadership, the 123 signatories to the GATT reached agreement later that year and signed the Marrakesh Agreement concluding the Uruguay Round and creating the WTO.
In a statement, Sutherland's family said he died in hospital in Dublin on Sunday. He had been ill for some time.
"It was with great sadness that I learned of Peter Sutherland's passing. Peter was a great man and a great friend of the global trading system. He was instrumental in laying the foundation for the WTO and the multilateral trading system as we know it today. He was dedicated to the principle that opening trade meant opening possibilities for economic growth, development and job creation. This principle is as important today as it was when the WTO was created. We are all grateful for his immense contribution. I have no doubt that his memory will live on among all those in the global trade community, and beyond," said WTO Director-General Roberto Azevêdo.
Mr Sutherland became Ireland's Attorney General in 1981 and served as the European Commissioner for Competition from 1985 to 1989. After leaving the WTO in 1995, Mr Sutherland worked for three decades in senior positions in the banking and energy sectors.
In 2006, then United Nations Secretary General Kofi Annan named Mr Sutherland as UN Special Representative for Migration, a position which he retained for the rest of his life. – Text and photo from WTO