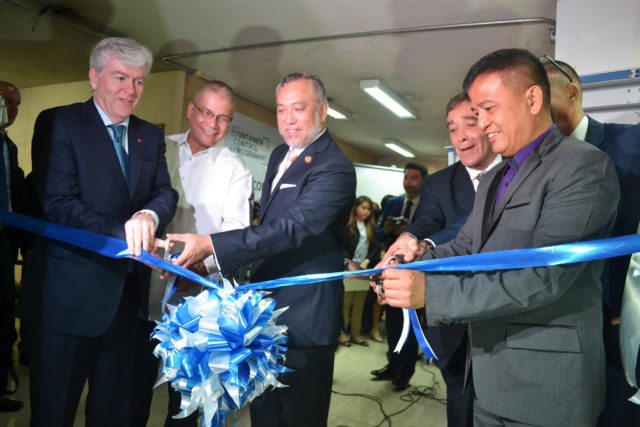 The Philippine Bureau of Customs (BOC) recently launched its Container Control Unit (CCU), an office that will focus on preventing illicit trade and proliferation of strategic goods initially at Manila ports. The unit may later cover other outports such as Davao and Cebu.
CCUs are organized in developing countries under the funding or sponsorship of another country or countries, with the unit functioning as one of the members in the enforcement network. BOC's CCU is sponsored by Canada and the United States.
The CCU is tasked to implement the Container Control Program (CCP), which assists governments in creating enforcement structures in selected sea ports to minimize the risk of shipping containers being exploited for illicit drug trafficking, transnational organized crime, and other forms of black market activity.
Launched in 2003, the CCP was developed jointly by United Nations Office on Drugs and Crime (UNODC) and World Customs Organization (WCO) as part of efforts to strengthen border security and trade facilitation.
The CCU's main function is to receive, collect, and analyze data to identify risk indicators in the electronic manifest and electronic documents that are submitted in advance, in a bid to achieve a risk- and intelligence-based profiling of sea containers.
It can also recommend high-risk shipments to higher authority so the latter can properly enforce rules and laws as well as exercise any type of control in relation to illicit trade and proliferation of strategic goods.
The newly created CCU will operate under BOC's Revenue Collection and Monitoring Group, and will hire staff and contractual employees concurrently working for the Risk Management Office.
During the launch, Customs Commissioner Nicanor Faeldon said CCU connects BOC with 35 other countries that implement the program. These countries can alert the agency when a suspected container leaves their port for the Philippines, giving the customs agency knowledge on which container to inspect.
Canadian Ambassador to the Philippines John Holmes said Canada is committed to working with the UN to fight drugs, illicit trade, crime, corruption, and border security threats. He said cooperation with the ASEAN is necessary to achieve the same goals.
US attache for Homeland Security Ransom Avilla noted that CCU will enhance BOC's trade facilitation mandate and secure Philippine borders against smuggling and other forms of customs fraud.
UN South East Asian Regional Director Mark Stanley, for his part, acknowledged expressed the UN's support for the country's fight against illicit trade and the destruction of agricultural products. – Roumina Pablo