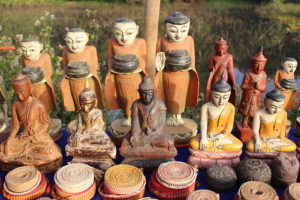 Myanmar is steering new investments towards export-oriented and labor-intensive ventures with its new investment law that is scheduled to take effect in three months' time.
"But we are ready to announce the country's investment policy in a few days," U Aung Naing Oo, director general of the Directorate of Investment and Company Administration and secretary of the Myanmar Investment Commission (MIC), said.
Unlike the previous one, the new investment law stipulates that tax breaks are going to be enjoyed only by investments made after the policy's effectivity, according to a report by Xinhua.
Moreover, the tax privileges of existing investments will remain only for those that export their products, said U Aung Naing Oo.
Export-oriented businesses will also be exempted from custom duty when they import raw materials.
In the past, any investment approved by MIC enjoyed income tax exemption for five years. Now the tax exemption applies only to industries or ventures engaged in labor-intensive manufacturing, agro-based production, infrastructure and logistics development, and hotel and tourism services.
They will receive income tax exemption for seven years if they operate in the least-developed regions and states that are included in the country's promoted areas.
Domestic and foreign direct investments (FDIs) will both enjoy these privileges.
Another distinct feature of the new law is that priority for MIC approval will go to investments that are aligned with the government's strategy, are capital intensive, won't have a huge impact on the environment, and will use state-owned buildings, among others.
The new law, which combines the Foreign Investment Law drafted in 2012 and the Citizens' Investment Law, was formulated in 2013.
The House of Nationalities (Upper House) approved the bill earlier this month after it was passed by the House of Representatives (Lower House) last month.
The investment policy will provide detailed information on increasing foreign investments in the country's strategically promoted sectors and areas.
According to MIC, Myanmar drew US$662.835 million in foreign direct investment (FDI) in the first half of the fiscal year 2016-2017, way lower than the targeted amount of $6 billion and below that for the same period of fiscal year 2015-2016.
Myanmar garnered $9.5 billion in foreign investment in fiscal year 2015-2016.
With the help of Asian Development Bank, Myanmar is also now drafting the new Company Act that intends to strengthen the country's economy.
The country also plans to sign bilateral investment treaties with the European Union, Hong Kong, and other countries or regions in a bid to attract more FDIs.
Photo by Mydaydream89