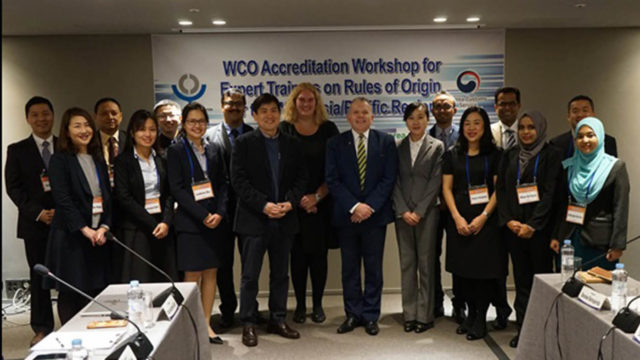 A World Customs Organization (WCO) Accreditation Workshop for Expert Trainers (ET) on Rules of Origin was held in Busan, Korea, from 15 to 19 January 2018.
The event, under the patronage of the Korean Customs Cooperation Fund (CCF-Korea) and in collaboration with Korea Customs Service, was organized as part of the WCO strategic approach to expand overall the pool of member experts in order to assist the WCO in the effective delivery of capacity building activity.  In particular, this event aimed at further developing the team of WCO Rules of Origin Expert Trainers capable of conducting international training activities in line with WCO standards.
The WCO has developed a three-phased approach to the accreditation process for the pre-selected candidates: (1) pre-screening; (2) participation to a WCO accreditation workshop; and (3) final evaluation carried out by a qualified WCO Expert during an in-field mission.
The event was attended by thirteen participants from the WCO Asia Pacific Region who were assessed on their relevant technical knowledge and application, presentation and facilitation skills, communication and advisory skills, overall knowledge of key WCO tools and instruments and their team working capabilities.
During the intensive five-day workshop a good number of participants demonstrated the required skills and their overall potential to become WCO Expert Trainers and were duly invited to the next stage of the accreditation process.  It is anticipated they will each be given an early opportunity of conducting an in-field mission in order to finalize their accreditations. – WCO