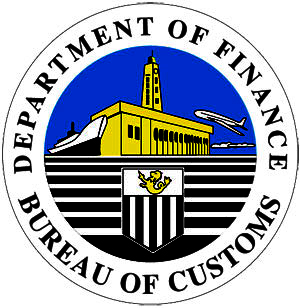 Philippine President Rodrigo Duterte said the military will take over operations at the Bureau of Customs (BOC) as he reiterated that all officials and employees of the agency will be placed on floating status.
"They will be replaced all—all of them—by military men. It will be a takeover of the Armed Forces in the matter of operating in the meantime while we are sorting out how to effectively meet the challenges of corruption in this country," Duterte said in a speech at a thanksgiving event in Davao on October 28.
Duterte repeated a statement he originally gave on Oct 25 that all officials of the customs bureau will be placed on floating status. He issued such statement after announcing the appointment of incumbent Maritime Industry Authority (Marina) administrator Rey Leonardo Guerrero as the new Customs commissioner, replacing embattled Isidro Lapeña.
Before his appointment at Marina last April, Guerrero was chief of the Armed Forces of the Philippines.
"Almost all of them there (in Customs) have been—in one way or the other been charged (with)—corruption. Lahat 'yan sila may kaso (All of them have cases). And yet we cannot just move on because we want to be lawfully correct so dahan-dahan lang tayo (we have to take it slow). But with this kind of games that they are playing, dirty games, I am forced now to ask the Armed Forces to take over," Duterte explained.
The President said he instructed Guerrero to "take the technical soldiers (of the) Armed Forces, maybe the technical group of the Philippine Army, the technical group of the Philippine Navy and of the Air Force."
He said he also asked the incoming BOC chief to talk to Finance Secretary Carlos Dominguez III about having the company that supplied BOC's x-ray machines send a representative "to teach our technical men in the Armed Forces."
In his Oct 25 statement, Duterte stated that "maybe you (Guerrero) can utilize military men, the excess diyan sa wala trabaho, lalo na mga babae (the excess there who have no jobs, especially the women). You can suspend two or three days for them to learn. 'Di naman mahirap x-ray-x-ray na 'yan (That x-ray machine is not hard to operate)."
Duterte said there will be about three signatures before a container is cleared. "So there will be about three, six eyes there. And they must sign that it could be a Navy or a Coast Guard, something like that," he explained.
Moreover, Duterte said he will be signing an order directing BOC's Customs Intelligence and Investigation Service to report to Malacañang and hold office in its gymnasium.
In a chance interview with PortCalls on October 28 in Davao, Guerrero said he is reserving his comment on the President's announcement about the floating status of all BOC officials until he has formally assumed the post of Customs commissioner.
Asked if he believed there are still honest men at BOC, Guerrero said the customs bureau's image "has been tainted by a few, but generally majority of the employees are still honest."
These recent developments at BOC come on the heels of the alleged slippage from BOC custody of massive amounts of illegal drugs worth an estimated P11 billion (up from the previous estimate of P6.8 billion) and supposedly contained in four magnetic scrap lifters discovered in a warehouse in Cavite.
Unconstitutional?
Lawmakers from the Lower House Makabayan bloc called the military's takeover of BOC operations "unconstitutional" and "illegal."
ACT Teachers representative Antonio Tinio said the basic principle of the Constitution is that "civilian supremacy at all times over the military."
"'Yung BOC malinaw na part of the civilian bureaucracy ito, hindi pwedeng bast-basta i-take over ng militar sa utos ng Presidente (It's clear BOC is part of the civilian bureaucracy so you just can't take over its operations based on the President's instructions)," he said.
The President's decision was defended by Justice Secretary Menardo Guevarra, noting placing BOC operations under military control does not violate civilian rule.
"The BOC chief is a civilian; the BOC is under the Department of Finance (DOF); and the DOF is under the president. Civilian rule remains supreme over the military," Guevarra said in a statement.
"Putting the bureau of customs under the watchful eye of the AFP is a temporary measure to ensure that massive entry of illegal drugs, which threatens public safety, is immediately stopped," he added.
AFP spokesman Brigadier General Edgard Arevalo in a press conference on October 29, said the contingent to take over BOC will come from all services of the military. He, however, said they have yet to determine the number of military personnel to be deployed and that their stay in BOC would depend on Guerrero.
"When you say temporary, that is supposed to be during the period that the services of the Armed Forces are needed," Arevalo said, adding that they are still in the process of determining what tasks will they accomplish in BOC.
"Now taking into account the enormity of the challenges that will be facing the bureau, said personnel from the AFP should be of unquestionable integrity, good refute, of known competency and professionalism," he added.
Finance assistant secretary Antonio Joselito Lambino II said the planned takeover of the military will be finalized "in the next couple of days."
Presidential spokesman and chief legal counsel Salvador Panelo, in a separate press briefing on Oct 29, claimed one week is all it takes for Guerrero and the Philippine military to learn the ropes in running BOC.
"I don't think it will take time to learn the ropes of the game in any particular bureau. I think one week would be long to learn what you should be doing there. It's administrative work so all you need is really, if you're intelligent enough, you will learn fast," Panelo said.
He said military men who have acquired knowledge on various customs positions will likely be assigned in BOC, adding that "there are a lot of them who have taken [courses in] graduate schools, scholarships with respect to some technical knowhow and certainly they will also be undergoing training to be competent in the field they will be assigned to."
But aside from the necessary knowledge of the job which Panelo said military men "will learn" in the course of their work, "what is important in these kind of bureaus are men of integrity [who have] the trust and confidence of the President."
Former customs commissioner Rozzano Rufino Biazon, in a separate statement, said Duterte's order "may be a manifestation of his frustration over the recurring problem of smuggling and corruption in the bureau but it is also an indication of his desire and commitment to reform the agency."
He said it should be clear from the get-go "which positions will be taken by military personnel, what functions they will assume and the parameters of their authority. Just like any mission given to the military before they operate, the objectives must be specific, their roles defined and an exit plan prepared."
He added that BOC's three mandates—revenue collection, trade facilitation, and border security—must be considered and the delicate balance between the three must be maintained.
"What's at stake is not just the anti-drugs/anti-criminality/anti-corruption drive of the administration but also the country's finances and trade," he said.
Word war
The change in personnel at the BOC was set in motion following a word war among Lapeña, Philippine Drug Enforcement Agency (PDEA) chief Aaron Aquino and BOC official Atty. Lourdes Mangaoang over whether methamphetamine hydrochloride (shabu)—supposedly initially contained in four magnetic scrap lifters—slipped past customs custody. The magnetic scrap lifters were found with an empty interior at a warehouse in Cavite in August, with Aquino and Mangaoang claiming they once contained shabu and Lapeña–who used to head PDEA himself before assuming the position of commissioner at BOC–insisting otherwise.
Then in a strange turn of events Lapeña after hearing findings of the Department of Public Works and Highways (DPWH), recanted and said the lifters may have actually contained shabu.
DPWH Bureau of Equipment director Toribio Noel Ilao had reported in a Lower House hearing on October 24 that they found the four magnetic scrap lifters were not designed to lift heavy objects and may have been purposely built to conceal items in their empty compartments.
Ilao said their investigations yielded lead strips possibly installed by perpetrators to trick x-ray scanners about the density of materials inside the cavity of the magnetic scrap lifters. DPWH said their findings revealed the lifters were made in such a way as to make whatever items were inside invisible to x-ray.
Duterte, meanwhile, defended Lapeña and former Customs commissioner Nicanor Faeldon, saying both "were all honest actually."
Faeldon was also replaced after P6.4 billion worth of shabu slipped past BOC in May last year. – Roumina Pablo