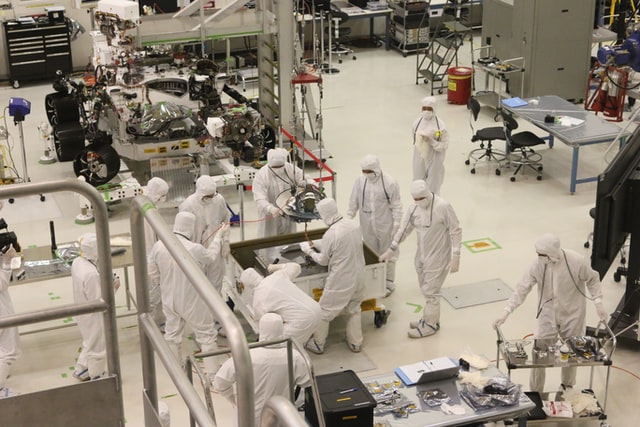 December global manufacturing PMI reached 53.8, one of the fastest growth rates seen over the past years
Production growth last month eased only slightly from near-decade high figure set in November
A key contributor to the return of robust global manufacturing growth is a revival in worldwide goods trade
But supply chain delays also increased to levels rarely seen over the past two decades, pushing prices higher
Optimism remains close to five-year highs
Global manufacturers are optimistic about the year ahead as factory output and order book inflows worldwide continued to rise at a very strong pace in December, according to the latest Purchasing Managers' Index (PMI) survey data.
The growth in global manufacturing output last month, one of the fastest rates seen over the past decade, indicates a further recovery from the COVID-19-related downturn seen in the first half of the year. The production upturn was led by Germany, followed by Brazil and India.
The JPMorgan Global Manufacturing PMI, compiled by IHS Markit, came in at 53.8 in December, unchanged from the 33-month high record set in November. However, two important components of the PMI—output and new orders indices—both fell slightly last month from November, as did the employment component.
The December increase meant output rose continually over the final six months of 2020 after contracting sharply between February and June. The survey data are broadly consistent with output growing at an annualized rate of about 5%, said IHS Markit in a report.
A key contributor to the relatively swift return of robust global manufacturing growth in the recent months has been a revival in worldwide goods trade.
The year 2020 saw exports return to growth after just five months following the low point seen in April. However, global new export orders growth slowed in December, often linked to intensifying supply chain delays.
Supply chain delays worsen
The report noted that supply delays have risen sharply to an extent rarely seen over the past 25 years, as demand outstripped supply and logistics delays intensified. Input prices have also risen at the sharpest rate for nearly two and a half years as a result of these shortages.
Output, demand and trade flows were in many cases also constrained by rising supply problems.
Except in March and April this year and in 2011, the incidence of supply delays in December was the highest since 2004. Lead times for inputs lengthened in all countries surveyed. The highest incidence of delays was seen in Brazil, followed by the UK, Germany, Australia and the US, though the biggest increase in the number of delays was recorded in Taiwan.
Companies commonly reported issues with a lack of shipping capacity around the world, including a shortage of containers, and frequently reported bottlenecks as suppliers and logistics firms struggled to meet rising demand from manufacturers.
A consequence of supply shortages was higher prices. Manufacturers' average input prices rose in December at the fastest pace since July 2018. Prices have now risen at an ever-increasing rate over the past seven months, having fallen briefly between April and May amid the pandemic-related shutdowns.
Often price hikes were simply attributed to increased pricing power among suppliers, but there were also many reports of shipping surcharges.
Manufacturers' optimism about the year ahead waned slightly in December, but remained close to the near-five-year high seen in November. Sentiment continued to be buoyed by news of COVID-19 vaccine roll-outs, and has remained especially upbeat in the US following the presidential election result, though December saw some increased concerns about the near-term impact of rising virus cases.
Employment was held steady as the building of new capacity in some firms was offset by caution to expand by other firms. Jobs growth was led by Canada and the US, as well as in Turkey, Brazil and Australia, followed by a number of European economies.
Germany reported one of the steepest falls in employment, behind only the Philippines and Mexico. Job losses were also reported in Indonesia, Thailand, India, Greece, Russia, Spain, the UK, Austria, Malaysia and China.
Photo by Laurel and Michael Evans on Unsplash