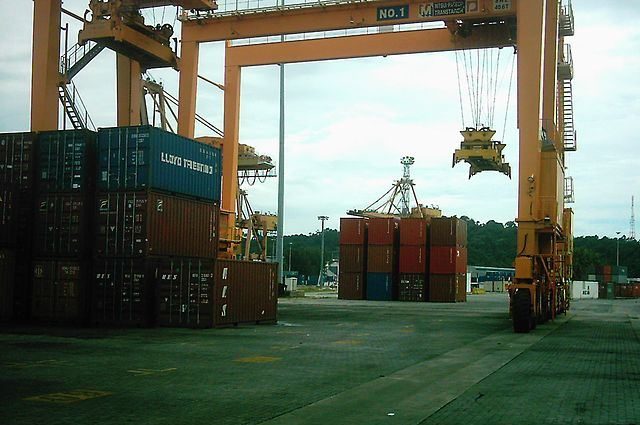 Malaysian exports in March 2018 totaled MYR84.47 billion (US$21.39 billion), increasing by 2.2% from March 2017, the highest monthly export value ever recorded, the Ministry of International Trade and Industry (MITI) said.
The expansion was supported mainly by higher exports to Hong Kong, the European Union (EU), India, South Korea, Taiwan, and South Africa, MITI stated in a release.
Imports declined by 9.6% year-on-year to MYR69.78 billion. The trade surplus widened to MYR14.69 billion, making it the 245th consecutive month of trade surplus for the country since November 1997. Total trade amounted to MYR154.25 billion, a decrease of 3.5% year-on-year.
Total trade for the first quarter (Q1) of 2018 was valued at MYR441.89 billion, a growth of 2.6% compared to MYR430.5 billion registered in Q1 2017. Exports totaled MYR237.63 billion, an increase of 5.8%, while imports amounted to MYR204.26 billion, a decline of 0.8%. A trade surplus of MYR33.37 billion was recorded for the period.
Exports of manufactured goods in March 2018 increased by 3.7% year-on-year, or MYR2.5 billion to MYR69.75 billion, accounting for 82.6% of Malaysia's total exports. The expansion was mainly on account of higher exports of electrical and electronic (E&E) products, which increased by MYR2.54 billion.
Other products which contributed to the increase were manufactures of metal, transport equipment, chemicals and chemical products, iron and steel products, as well as machinery, equipment and parts.
Exports of mining goods grew by 1.5% to MYR7.78 billion, constituting 9.2% of Malaysia's total exports, while exports of agriculture goods, which accounted for 7.2% of total exports, contracted by 11.2% to MYR6.12 billion.
During the first quarter of the year, exports of manufactured goods expanded by 8.2% to MYR196.39 billion compared to Q1 2017, primarily led by exports of E&E products, manufactures of metal, chemicals and chemical products, transport equipment, iron and steel products, as well as optical and scientific equipment.
Exports of mining goods decreased marginally by 0.1% to MYR21.17 billion, and exports of agriculture goods contracted by 9.9% to MYR17.82 billion.
On the performance of major markets, the Association of Southeast Asian Nations (ASEAN) continued to lead trade, said the ministry. Malaysia-ASEAN trade in March 2018 accounted for 27.4% of Malaysia's total trade, or MYR42.32 billion, contracting marginally by 0.3% year-over-year. Exports amounted to MYR23.29 billion, a decrease of 2.7%. Imports from ASEAN expanded by 2.7% to MYR19.03 billion.
In Q1 2018, trade with ASEAN expanded by 2.2% to MYR121.06 billion compared to the same period of 2017. Exports to this region rose by 2% to MYR67.76 billion. Imports increased by 2.4% to MYR53.3 billion.
Photo: Only Truth