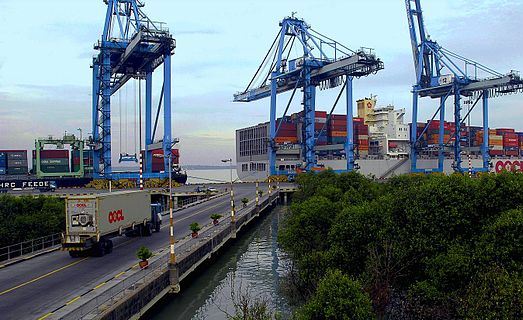 Malaysian exports hit a new milestone in March 2017, expanding an impressive 24.1% year-on-year to MYR82.63 billion (US$19.04 billion).
This is the highest monthly export value ever recorded and the first time exports breached the MYR80 billion mark, according to the Ministry of International Trade and Industry (MITI).
This is also the fourth consecutive month that exports registered double-digit growth since December 2016.
Imports surged by 39.4% to MYR77.22 billion in March, while the trade balance stood at MYR5.41 billion, making it the 233rd consecutive month of trade surplus since November 1997.
Higher trade was seen with ASEAN, China, U.S., EU, South Korea, and Japan, said MITI.
Month-on-month, total trade grew by 18.5%, exports went up 15.1%, and imports increased 22.5%.
For the first quarter of 2017, exports totaled MYR224.7 billion, an increase of 21.4% compared to only 2.3% increase recorded in the same quarter last year. Imports grew by 27.7% to MYR205.82 billion compared to the same quarter last year.
Total trade from January to March was valued at MYR430.51 billion, growing by 24.3% compared with the MYR346.38 billion registered in Q1 2016, and the fastest pace recorded since the second quarter of 2010, according to MITI.
Growth has been averaging around 5.3% since, with the highest growth recorded prior to this being 11.5% in the second quarter of 2014.
The remarkable export performance in Q1 2017 was underpinned by higher exports of all major sectors, namely, manufacturing (up 19.5%), mining (up 25.5%), and agriculture (26.6%).
Significant increases in exports were seen for electrical and electronics products, the category posting growth of 18.4%. This was due to the strong global demand for mobile devices including smartphones, health gadgets, circuits, and the Internet of Things.
Petroleum products also did well, growing by 61%, while palm oil & palm oil products increased by 34.4% in the first three months of 2017.
Also big gainers were chemicals and chemical products (up 24.2%) and rubber products (up 36.2%).
All key markets registered double-digit export growth in Q1 2017, including ASEAN, which grew by 23.9% to MYR66.44 billion, China (39.9% to MYR29.1 billion), U.S. (11.9% to MYR21.33 billion), EU (22.2% to MYR23.62 billion), and Japan (18.1% to MYR20.42 billion).
"Taking into account our latest trade performance, Malaysia is on track to achieve a growth of 5% [in] exports this year, higher than the average of 3.3% among emerging markets and developing economies as projected by the International Monetary Fund," MITI said.
"With a better export performance this year. We are confident that trade will be a major contributor towards delivering our economic growth of 4.3-4.8% in 2017 as projected by the Central Bank," said Trade Minister Dato' Sri Mustapa Mohamed.
Photo: Hapiz343