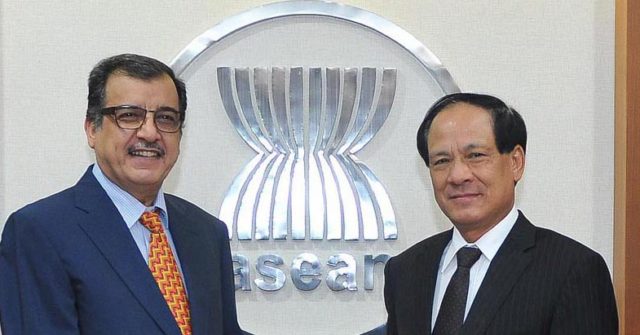 Kuwait is keenly interested in enhancing cooperation with ASEAN and ASEAN member states, according to the new Ambassador of the State of Kuwait to ASEAN, Abdulwahab Abdullah Al Sager, during the recent presentation of his Letter of Credence to Secretary-General of ASEAN Le Luong Minh at the ASEAN Secretariat.
Ambassador Al Sager said Kuwait views ASEAN as an important regional organization, with which his government wishes to pursue closer relations. He also expressed his interest to participate in relevant and appropriate ASEAN activities organized in Jakarta or ASEAN Member States.
Secretary-General Minh congratulated Ambassador Al Sager on his assumption of duty as Kuwait's Ambassador to ASEAN and encouraged Kuwait to further explore cooperation activities with ASEAN and its member states in the areas of mutual interest, including trade and investment. Further, the Secretary-General updated Ambassador Al Sager on the progress of ASEAN Community building as envisaged in the ASEAN Community Vision 2025 and ASEAN's efforts to forge closer ties with external partners.
Secretary-General Minh and Ambassador Al Sager also exchanged views on the ways and means to enhance relations between ASEAN and Gulf Cooperation Council. – ASEAN