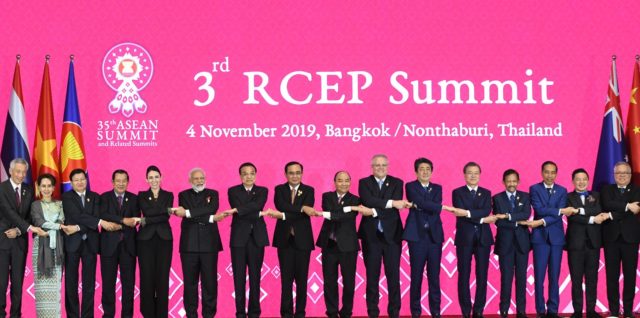 Fifteen of the original 16 participants of the Regional Comprehensive Economic Partnership (RCEP) remain committed to signing the mega Asia-Pacific trade pact, expected to happen in 2020, as India backs out of the major free trade deal.
During the 3rd RCEP Leaders' Summit in Bangkok on November 4, Indian Prime Minister Narendra Modi stated that it was not possible for India to join RCEP, noting its unresolved issues and concerns.
India's withdrawal highlighted its concern over a flood of cheap mass-produced Chinese goods hurting small businesses in its economy, and the impact of free agricultural trade on the country's tens of millions of small-scale farmers.
The 15 other country leaders, however, agreed to sign up to RCEP, likely in February next year.
"We noted 15 RCEP Participating Countries have concluded text-based negotiations for all 20 chapters and essentially all their market access issues; and tasked legal scrubbing by them to commence for signing in 2020," said a joint leaders' statement.
"India has significant outstanding issues, which remain unresolved. All RCEP Participating Countries will work together to resolve these outstanding issues in a mutually satisfactory way. India's final decision will depend on satisfactory resolution of these issues," it added.
The RCEP nations also said India remained welcome to return to the fold and see its massive economy as a counterweight in the deal, which could come to be dominated by China.
Once concluded the RCEP will form a major trading bloc covering a third of the world's gross domestic product.
"Against the backdrop of a fast-changing global environment, the completion of the RCEP negotiations will demonstrate our collective commitment to an open trade and investment environment across the region," said the statement.
"We are negotiating an Agreement intended to further expand and deepen regional value chains for the benefits of our businesses, including small and medium enterprises, as well as our workers, producers, and consumers. RCEP will significantly boost the region's future growth prospects and contribute positively to the global economy, while serving as a supporting pillar to a strong multilateral trading system and promoting development in economies across the region."
Launched in 2012, RCEP is a trade pact between the 10-member ASEAN bloc and China, Japan, South Korea, Australia, New Zealand and, until recently, India.
Were it to include India's massive economy, the RCEP would be the largest free trade agreement in the world, accounting for over 30% of global GDP and half of the world's people. Without India's vast population, the deal will now include 2.1 billion people instead of around 3.4 billion.
Photo courtesy of ASEAN