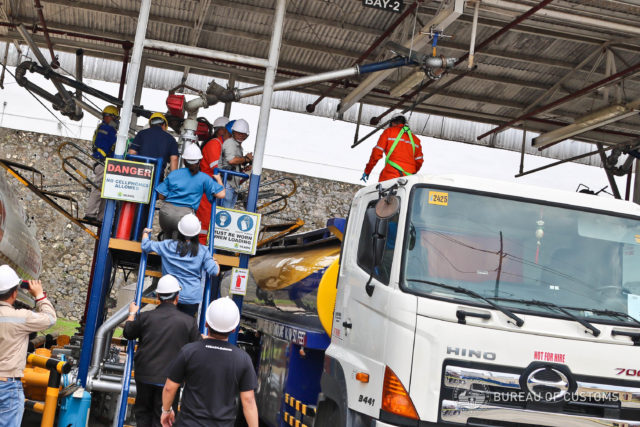 The Department of Finance (DOF), Bureau of Customs (BOC), and Bureau of Internal Revenue (BIR) conducted August 2 the first live marking of petroleum products at the Seaoil Bulk Terminal in Mabini, Batangas, signaling the start of implementation of the fuel marking program in the Philippines.
Marking of fuel products, whether imported from abroad or manufactured in the Philippines, becomes mandatory five years after the Tax Reform for Acceleration and Inclusion (TRAIN) law took effect in January 2018. Fuel marking aims to curb oil smuggling and plug revenue losses arising from the illegal importation or the misdeclaration of petroleum products.
Formally launched last February, the fuel marking program also includes random field testing and confirmatory tests on the fuel required to be marked so as to check compliance with the mandatory marking requirement.
In the next few months, random field testing will be conducted by BOC, BIR, and fuel marking services provider SICPA-SGS on depots, tank trucks and retail stations to determine the presence and dilution level of fuel marker on fuels that are subjected to marking. This activity will continue until the market is saturated with marked fuels.
"A confirmatory testing will be conducted immediately on fuels found to be unmarked or with marker levels below the prescribed dilution level and corresponding duties and taxes will be collected from oil companies found to have unmarked or diluted fuels," Customs commissioner Rey Leonardo Guerrero said in a statement.
The program aims to plug revenue leakages from oil smuggling by placing a molecular marker on imported, manufactured and refined petroleum products such as gasoline, diesel and kerosene.
"The implementation of the fuel marking program is a milestone for the Bureau of Customs as well as the Bureau of Internal Revenue and the Department of Finance, as we have painstakingly worked together in order to ensure the success of the program. With the cooperation and support of partner agencies and stakeholders, we are ready to implement the fuel marking program and make it work," Guerrero added.
Last July 25, DOF, BOC, BIR and SICPA-SGS, in coordination with oil company PTT Philippines, also held a simulation of the marking and testing process at the Philippine Coastal Storage and Pipeline Corporation in Subic.
According to the program's implementing rules and regulations covered by Joint Circular 01-2019, BOC and BIR will implement the program, including the collection of marking fees.
Under the National Internal Revenue Code, as amended, BIR shall collect the fuel marking fees for locally refined or manufactured petroleum, while BOC shall do this for imported petroleum products.
All costs from procuring the official fuel markers shall be borne by the refiner, manufacturer, or importer of petroleum products. The government may subsidize the cost of official fuel markers in the first year of implementation.
The Philippine Institute of Petroleum, a group of big oil players in the Philippines, earlier said it supported the implementation of the fuel marking program as a way to curb oil smuggling.