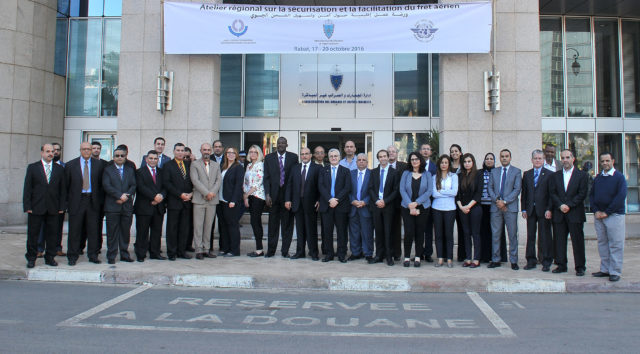 Article first appeared on www.wcoomd.org
The International Civil Aviation Organization (ICAO) and the World Customs Organization (WCO) conducted a second joint Workshop on Air Cargo Security and Facilitation from 17 to 20 October 2016 at the Moroccan Customs Headquarters in Rabat (Morocco), with the financial support of the Japanese Customs Co-operation Fund and the assistance of Moroccan Customs.
Following on from the first successful joint Pilot Workshop held in Bangkok in April 2015, this event was attended by 28 participants representing Customs and aviation security authorities from 11 countries, as well as representatives from the International Air Transport Association (IATA) and the Universal Postal Union (UPU).
As a part of the ICAO/WCO Joint Action Plan, the Secretariats of both Organizations cooperated to design this workshop aimed at bringing together experts and stakeholders in the respective fields of Customs and civil aviation air cargo security. During the workshop, participants examined the international air cargo security supply chain and its governing rules and standards. The workshop also provided participants with an opportunity to share experiences and identify synergies in Customs and civil aviation air cargo security processes, with the aim of identifying areas for enhancing existing security provisions while facilitating legitimate flows of goods transported by the air cargo industry.
Upon returning home, participants were also invited to share the knowledge, experience and perspective they had gained from participating in the workshop with their respective national authorities and airport-level operators.
The next Workshop will be held in Geneva for Members of the Europe region (15 to 17 November 2016).