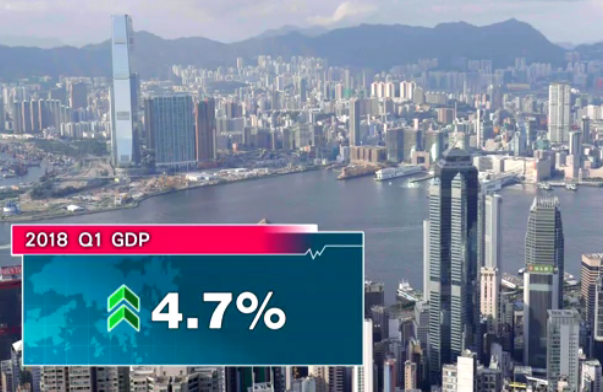 Hong Kong's economy grew 4.7% in the first quarter of 2018 from a year earlier due to the strong rise in external and domestic demand, according to the territory's government.
The actual growth outturn in the first quarter was stronger than expected: It sustained the full-fledged upturn seen in 2017 and beat the 3.4% growth of the preceding quarter.
On a seasonally adjusted quarter-to-quarter comparison, real gross domestic product (GDP) grew notably by 2.2% in the first quarter of the year.
Delivering the first quarter economic report recently, government economist Andrew Au said external demand picked up as the global economy maintained momentum, while domestic demand also strengthened, boosted by favorable labor market conditions and positive business sentiment.
Hong Kong's total goods exports in the first quarter increased 5.2% year-on-year, as the upswing in global investment and trade translated into booming production and trading activities in Asia.
Exports of services likewise accelerated to show broad-based growth of 7.5% year-on-year in real terms, bolstered by a strong recovery in inbound tourism, active global financial market activities, and buoyant regional trade flows, Au said.
Looking ahead, the broad-based momentum in the global economy is likely to continue in 2018, and domestic demand should continue to stay resilient, Au said.
"However, we also [see] that external uncertainties have increased compared with three months ago. The trade tensions between the US and its major trading partners, notably the Mainland, have become the key source of uncertainty," he said.
"Another key source of uncertainty is the possibility of a faster pace of US interest rate normalization, which will have repercussions on the stability of the global financial conditions."
Considering the increased uncertainties in the external environment, particularly on the trade and financial fronts, the government maintains its forecast of 3% to 4% real GDP growth for 2018, as announced in the government budget.
Hong Kong's economy grew by 3.8% last year.