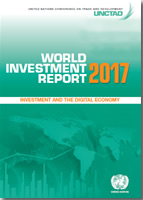 ​Global foreign direct investment (FDI) is expected to rise by 5%, to almost 1.8 trillion in 2017, according to the World Investment Report 2017: Investment and the Digital Economy. After FDI flows retreated marginally in 2016 – by 2%, to $1.75 trillion – the new, more optimistic projections for 2017 are attributed to higher economic growth expectations across major regions, a resumption of growth in trade and a recovery in corporate profits.
The modest increase in FDI flows is expected to continue into 2018, taking flows to $1.85 trillion (figure 1). However, this still puts FDI below the all-time peak of $1.9 trillion in 2007.
In terms of projections for the future, the United States of America, China and India are the top prospective destinations for FDI. Business executives surveyed by UNCTAD say that they maintain their confidence in developing Asia's economic performance. FDI prospects are moderately positive for most other regions – except Latin America and the Caribbean – with developing countries as a group expected to gain about 10%.
"The road to a full recovery for FDI remains bumpy, but we are cautiously optimistic.  Although this report projects a modest increase for 2017, other factors such as the elevation of geopolitical risks and policy uncertainty may impact the scale of the upturn," said Mukhisa Kituyi, Secretary-General of the United Nations Conference on Trade and Development (UNCTAD).
The new UNCTAD report reveals that in 2016 the United States remained the largest recipient of FDI, attracting $391 billion in inflows (up 12% from the year before), followed by the United Kingdom of Great Britain and Northern Ireland with $254 billion, vaulting from its fourteenth position in 2015 on the back of large cross-border mergers and acquisitions deals. China was in third position with inflows of $134 billion – a slim decrease of 1% from the previous year.
In 2016, the 2% decline in global FDI flows came amid weak economic growth and significant policy risks, as perceived by multinational enterprises. Most of the decrease can be ascribed to a sizeable drop in intracompany loans, which was only partly compensated by a rise in equity investments. Flows to developing countries were especially hard hit, with a decline of 14%, to $646 billion. Despite the fall in their inflows, developing economies still accounted for half of the top 10 host economies in 2016 (figure 2).
FDI outflows from developed countries remained weak. They declined by 11%, to $1 trillion, mainly owing to a slump in investments from European multinational enterprises.
While the United States remained the world's largest outward-investing country in 2016, its flows declined marginally (-1%), to $299 billion (figure 3). Outflows from developing economies were flat, at $383 billion, despite a surge of outflows from China, now the second largest investing country in the world.
The World Investment Report 2017, which monitored international business activity in a number of areas, found that FDI flows to the Group of 20 surpassed the $1 trillion mark for the first time. FDI activity in major economic groups, such as the Group of 20 and the Asia–Pacific Economic Cooperation forum, strongly influenced global FDI trends. Intragroup FDI has grown in prominence in many regional groups.
Figure 1. Foreign direct investment inflows, global and by group of economies, 2005–2016, and projections, 2017–2018
(Billions of dollars and percentage)

Source: UNCTAD, World Investment Report 2017.
Figure 2. Foreign direct investment inflows, top 20 host economies*
(Billions of dollars)

Source: UNCTAD, World Investment Report 2017.
* (x) = 2015 ranking.
Figure 3. Foreign direct investment outflows, top 20 home economies, 2015 and 2016
(Billions of dollars)

Source: UNCTAD, World Investment Report 2017.