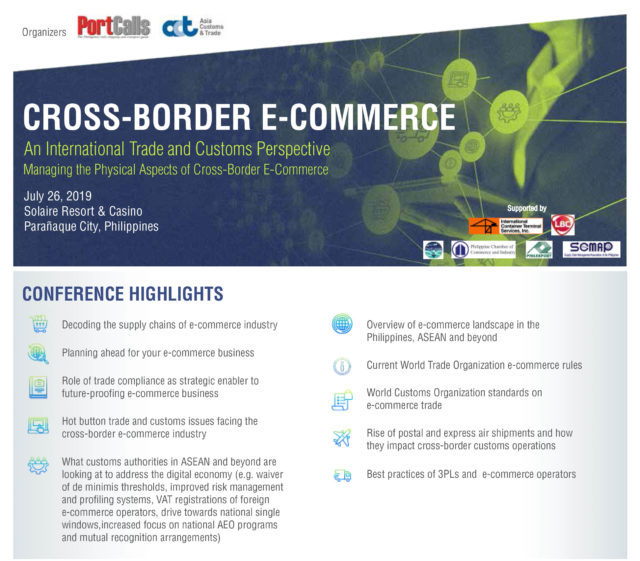 The physical aspects of cross-border e-commerce take center stage at the "Cross-Border E-Commerce: An International Trade and Customs Perspective" conference on July 26, 2019 at Solaire Resort and Casino in Parañaque City, Philippines.
Organized by logistics publications PortCalls and Asia Customs & Trade, the conference will decode e-commerce supply chains; identify hot-button trade and customs concerns; explore how trade compliance can future-proof businesses; and identify best practices of 3PLs and e-commerce operators.
For discussion, too, are e-commerce rules as set by the World Trade Organization and standards on cross-border e-commerce as prescribed by the World Customs Organization.
Part of the conference agenda are measures being done by customs authorities in ASEAN and beyond the bloc to address issues and challenges in the digital economy. Among steps being taken or considered are the waiver of de minimis thresholds, improving risk management and profiling systems, value-added tax registration of foreign e-commerce operators, drive towards national single windows, increasing focus on national Authorized Economic Operator programs, and enhancing mutual recognition arrangements.
E-commerce operators, trade and customs professionals, logistics/supply chain executives, cargo service and 3PL service providers, import and export managers, business owners and entrepreneurs, manufacturers, transport and investment planners, and consultants will find the conference discussions particularly helpful.
The conference is supported by International Container Terminal Services, Inc, LBC, Airspeed, BDO Leasing, Cebu Pacific Air, InterCommerce Network Services, Philippine Chamber of Commerce and Industry, Philippine Exporters Confederation, Philippine Multimodal Transport and Logistics Association Inc, and Supply Chain Management of the Philippines.
Early bird conference rate of PhP5,000 + VAT applies until May 31, after which the regular rate will be PhP6,000 + VAT. Sponsorship opportunities are available.
Registration form may be accessed here.
For questions, email events@portcalls.com or customstrade.asia@gmail.com or call (63-2) 551-1775, 551-3871, 551-1972 or 552-7072.