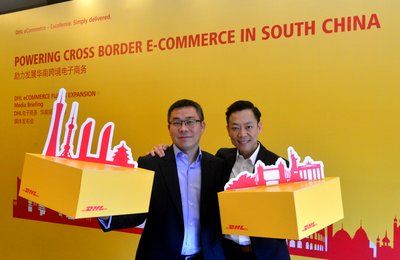 XIAMEN, China, March 24, 2017 /PRNewswire/ — DHL eCommerce, a division of the world's leading logistics company, Deutsche Post DHL Group, announced plans to further increase its presence in South China through the introduction of its e-commerce logistics services in the Fujian province. To meet the increasing demand, the company also announced the expansion of its Shenzhen Distribution Center and Hong Kong Distribution Center to manage a capacity of 81 million shipments a year.
China's booming cross-border e-commerce market, estimated to be worth US$839 billion by 2021, is expected to dominate 40% of the global market share[1]. The growth momentum in southern China is particularly strong – cross-border e-commerce transactions in Fujian grew a robust 42% to a total value of US$28.1 billion, which accounted for 18.5% of the provincial outbound trade in 2015[2].
To enable merchants across South China to tap on the huge cross-border e-commerce opportunity and compete in the international market, DHL eCommerce will now provide greater convenience with pick-up service; easy IT integration of their inventory into the shipping process, as well as greater variety of simple and affordable cross-border shipping solutions to reach out to customers across the world. For high volume, low value e-commerce products, merchants can tap on DHL GM Packet and DHL GM Packet Plus as affordable options with 4-10 days transit time. In addition, with the U.S., the U.K., Australia and Israel as popular e-commerce outbound markets for China, DHL eCommerce also offers DHL Parcel International Direct delivery services to these particular destinations with professional clearance services backed by DHL's excellent track record with 5-7 days transit time.
For easy integration from order management to the shipment process, merchants will be able to tap on DHL eCommerce's Customer Web Portal for IT integration with marketplaces such as Amazon, eBay, AliExpress and Wish.com, or their preferred portal platform with easy API integration with the help of DHL eCommerce, for a seamless offline to online logistics coordination.
"With exports expected to make up 75% of China's e-commerce turnover[3] three years from now, a strong and reliable logistics framework has to be set in place to meet growing needs," said Zhi Zheng, Managing Director, Greater China, DHL eCommerce. "Manufacturing and export hubs like Fujian will be the center stage of all future growth of e-commerce exports in China. DHL's expertise in international shipping and fulfillment, along with our global network and strong e-commerce expertise will play a fundamental role in connecting China's e-tailers with online markets across the world."
DHL eCommerce powers cross-border e-commerce growth in South China. (L-R: Zhi Zheng, Managing Director, DHL eCommerce Greater China; Boris Cheng, Managing Director, DHL eCommerce Hong Kong & South China)