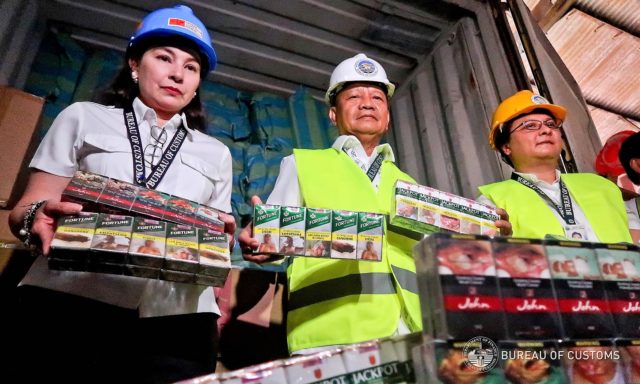 The Philippine Bureau of Customs (BOC) recently intercepted a 40-footer containing cigarettes estimated to be worth P18.5 million misdeclared as industrial fixture. The cigarettes, according to a technical expert, were also likely to be counterfeit.
The seizure was made amid Internal Revenue commissioner Caesar Dulay's statement that there is a "proliferation" of cigarette smuggling in the country as a result of the increase in excise tax under the Tax Reform for Acceleration and Inclusion (TRAIN) Act.
"Frankly, we have a proliferation of smuggling. So we created a task force to address that because our attention was called by big tobacco companies, Philip Morris and Japan Tobacco, that based on their investigation there are many smuggled cigarettes," Dulay told reporters.
Customs commissioner Isidro Lapeña in a press briefing on April 16 said BOC is intensifying its campaign against cigarette smuggling due to the higher excise tax.
The intercepted shipment—consigned to Marid Industrial Marketing located at 2090 Batangas Line, Paco, Manila—was declared as containing 890 cartons of industrial artificial fur texture that, upon examination, was discovered to contain 914 cartons of cigarette of the brands Jackpot, Fortune, John, Marvels, and U2, Lapeña said.
The shipment arrived at the Manila International Container Port from China on April 4 and its entry was filed on April 5. Based on the import documents, the shipment was processed by customs broker Carme Ann S. Rollon with office address at Cluster 3, Unit 3-1 Numancia Residences, Urbiztondo St., San Nicolas, Manila.
On April 10, agents from BOC's X-ray Inspection Project found irregularities with the x-ray image of the shipment, prompting recommendation to issue an alert against the cargo.
On the same day, the alert order was issued by Lapeña.
The shipment will undergo seizure and forfeiture proceedings for violation of Section 1400 (Misdeclaration, Misclassification, and Undervaluation in Goods Declaration) of Republic Act No. 10863, otherwise known as the Customs Modernization and Tariff Act (CMTA).
Lapeña added that the accreditation of the importer and customs broker has been suspended and will be revoked.
During the briefing, Sol Dador, technical expert of tobacco manufacturer Philip Morris who was invited by BOC, said initial inspection of the seized cigarettes showed that all the packages had the same serial numbers, which indicated that they were fake.
Lapeña said that with this finding, the owner of the shipment may also be violating the Intellectual Property Code of the Philippines.
He also warned the public to be cautious in buying cigarette products as counterfeit ones could contain more harmful chemicals.
Under the TRAIN Law, the unitary excise tax slapped on cigarettes rose to P32.50 per pack effective Jan. 1 from P30 a pack last year. The TRAIN Law also mandated a further increase in the cigarette excise tax rates to P35 per pack from July 1, 2018 to Dec. 31, 2019; P37.50 a pack from Jan. 1, 2020 to Dec. 31, 2021; and P40 from Jan. 1, 2022 to Dec. 31, 2023.