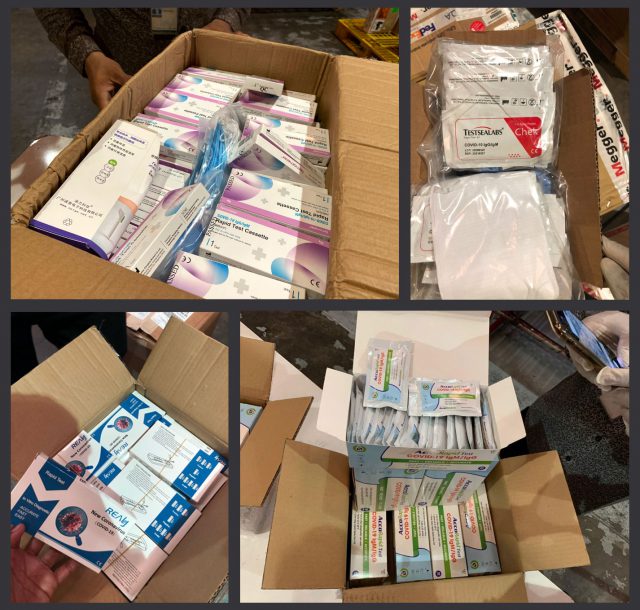 The Air Cargo Control Unit at Phnom Penh airport in Cambodia recently detected a shipment from Hong Kong containing around 100 COVID-19 test kits falsely declared as 'Test Paper Sample'.
This is the eighth shipment of suspected fraudulent COVID-19 test kits from various countries in the Asia-Pacific region detained by the unit established under the framework of the United Nations Office on Drugs and Crime-WCO Container Control Programme (CCP).
To date, the number of COVID-19 test kits seized in Cambodia has reached 1,100 units.
COVID-19 test kits are part of the joint WCO-WHO Harmonised System Classification List for COVID-19 medical supplies. The list was published on April 9, 2020 and is a follow-up of the first list published by the WCO in mid-March. It is aimed at facilitating cross-border movement of critical medical supplies through enhanced Customs clearance procedures at borders.
The WCO on March 23 also issued an Urgent Notice to all members and the general public regarding the increasing numbers of counterfeit COVID-19 medical supplies flooding the market.
Fake test kits are dangerous as they could result in infected people believing they are healthy, causing them to inadvertently spread the virus and not seek medical attention in a timely manner. Even in cases when test kits are not counterfeit, the diversion of legitimate medical supplies from authorized supply chains to illicit supply chains means these supplies will be maintained/stored and sold to the highest bidder by criminals with no accountability, rather than managed by authorities seeking to ensure supplies would be directed at people who need them most.
The CCP was initiated by the WCO and UNODC in 2004 to address illicit trade activities in containerized shipments through the establishment of dedicated Port Control Units, responsible for profiling suspicious consignments.
Following its well-established staged training concept, the CCP has expanded into the air cargo sector and also provides training on selected land border crossings. The CCP is currently operational in 51 countries and more than 100 dedicated risk profiling units are established in total.
Further expansion of this joint WCO-UNODC initiative is in progress. In 2019, the work of the Port and Air Cargo Control Units established via the cooperation between WCO and UNODC resulted in a total of 77 tonnes of cocaine, approximately 1,5 tonnes of heroin, 37 tonnes of precursor chemicals, 104 containers of intellectual poperty rights infringing goods, more than 705 million packs of cigarettes and numerous other illicit and/or smuggled goods. – Text and photo from the World Customs Organization