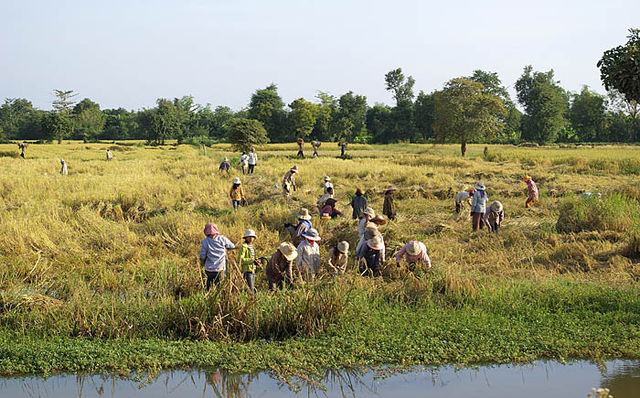 China and Cambodia will sign a free trade agreement (FTA) sometime in the next two weeks or so, the deal expected to boost Cambodian exports of agricultural products and other goods to China.
Cambodian Deputy Prime Minister Hor Nam Hong said on July 23 that the FTA will be signed before August 12, ahead of the European Union's partial withdrawal of the Everything-but-Arms (EBA) trade status of Cambodia, reported VNA and Khmer Times.
Cambodian Prime Minister Hun Sen will reportedly travel to China to preside over the signing ceremony.
"This agreement will open the door for more of our goods and agricultural products, such as bananas, cassava flour and rubber, to be exported to China. That is why China told Cambodia to speed up the work plans," Nam Hong said.
In 2010, Cambodia and China agreed to create a comprehensive partnership, and in April last year signed an action plan to develop the China-Cambodia Community of Shared Future.
The two countries began to discuss the feasibility of a bilateral FTA in December 2019 and launched the first round of negotiations in January this year. The two sides wrapped up trade talks last July 20.
Nam Hong said that from this year till 2025, China will also extend credit for projects such as road construction and repairs, rice storage warehouse and rice drier construction, hospital construction in rural areas, and electricity connection and water supplies in rural areas to improve the lives of Cambodian people.
So far this year, Cambodia has exported more than 300,000 tonnes of rice to China, as compared to the target of 400,000 tonnes for the whole year reached by both sides.
Two-way trade between the two countries stood at US$9.42 billion dollars in 2019, according to the Chinese Embassy in Cambodia.
In February 2012, the European Commission announced its decision to withdraw part of the tariff preferences granted to Cambodia under the EBA scheme "due to the serious and systematic violations of the human rights principles enshrined in the International Covenant on Civil and Political Rights."
The UN said the withdrawal will affect selected garment and footwear products, all travel goods and sugar, and amounts to one-fifth of Cambodia's yearly exports to the EU. The withdrawal will take effect on August 12, 2020.
Photo By Stefan Fussan