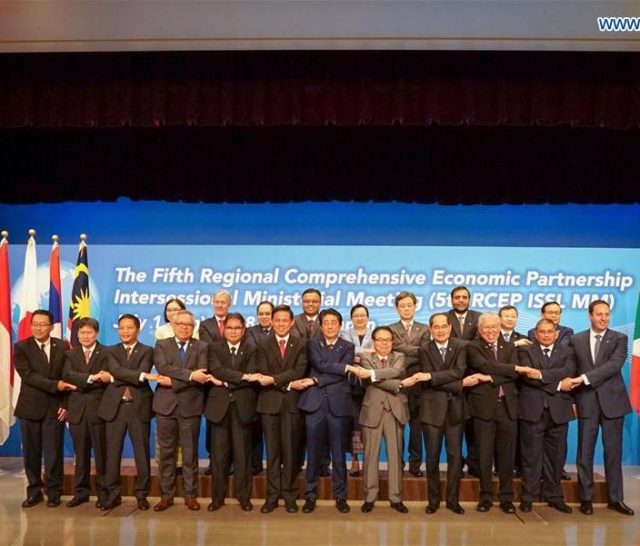 Trade ministers and representatives from 16 Asia-Pacific countries have agreed to conclude the Regional Comprehensive Economic Partnership (RCEP) deal by the end of the year, even as gaps remain on many major issues.
The RCEP participants—members of the Association of Southeast Asian Nations (ASEAN), Australia, China, India, Japan, New Zealand, and South Korea—believe the trade deal can still be concluded this year. As such, lead negotiators have been directed to fast-track consultations and the crafting of chapters toward completing the trade deal.
During the two-day meeting in Tokyo that ended July 1, negotiators had in-depth discussions on issues such as trade, service, investment, and rules as they formed a united front against the threat of protectionism.
A joint media statement was released after the meeting, saying the ministers "recognized the importance of swiftly and successfully concluding the RCEP negotiations… in view of the current global trade environment which faces serious risks from unilateral trade actions and reactions, as well as their debilitating implications on the multilateral trading system."
They also reaffirmed their resolve to see through the RCEP negotiations towards conclusion, and to achieve an agreement where all economies benefit from an open and inclusive regional economic integration.
They likewise welcomed the progress made by the negotiators across all areas and tasked negotiators to "focus efforts towards achieving a package of year-end outcomes."
But after more than five years of talks and other initiatives to reach a year-end deal in 2015 and 2016, RCEP members have achieved a consensus on just two of the agreement's 18 sections.
Chapters on sanitary and phytosanitary measures; customs procedures and trade facilitation; and standards and technical regulations are expected to be completed in the round of talks in Bangkok this month.
After that, trade ministers will meet again in August to review the chapters and "keep and sustain the momentum, and pave the way for the conclusion of negotiations by the end of the year."
Contentious issues arise from different takes on trade liberalization, e-commerce, piracy of intellectual property, and labor migration.
Branded as a strong counterpart of the Trans-Pacific Partnership, the RCEP is an ambitious trade deal aimed at consolidating the ASEAN's bilateral FTAs with its economic partners. RCEP economies account for almost half of the world's population, about 30% of global GDP, and over 25% of the world's exports.