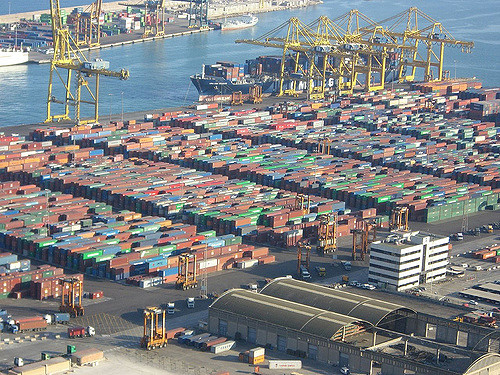 As global and regional demand recovers, export volume of the Asia-Pacific region is expected to expand in 2017, but growth is seen to slow down next year as uncertainties and risks persist, the United Nations Economic and Social Commission for Asia and the Pacific (ESCAP) said in its annual trade and investment report.
The report, entitled "Channelling Trade and Investment into Sustainable Development," said that in 2017, export growth should improve across the region, growing by 4.5% in volume, while imports may reach nearly 8% in the same period.
Exports and imports by developing economies are expected to grow by about 4.8% this year, faster than the 3.3% growth of exports and imports by developed countries in the region.
To countries previously affected by the slowdown of global value chains (GVCs), such as South Korea and the Philippines, the demand recovery is encouraging. At the same time, the rising prices of industrial commodities and fuel will contribute to dynamic growth for commodity exporters such as Australia, India, Indonesia, Iran, Kazakhstan and others.
But despite the improved performance of global and regional trade recently, several factors point to the moderation of trade growth in 2018, said the report.
First, the robust trade growth in 2017 was measured against the weak performance in 2016. Second, risks threatening the world economy remain in place and could undermine the process of trade recovery. Structural factors that have contributed to weak trade performance since the 2009 economic crisis persist. While import demand in developed economies has not fully recovered, import demand in China, especially for intermediate inputs, will also moderate due to the structural rebalancing of China from export orientation to domestic consumption.
"Hence, it is likely that intraregional demand may not be sufficient to bring trade growth to the pre-crisis level," said the report.
Furthermore, there are additional risks related to the protectionist rhetoric that has resulted from a long period of low economic growth and the inequitable distribution of trade benefits.
"Although the protectionist sentiment has not yet translated into trade-restrictive measures or actions, there is evidence that the use of nontransparent measures with a restrictive effect is not decreasing. While many of the fears about trade policy uncertainties may not be realized, the prevailing mood still creates definite risks. At the minimum, rising uncertainties could be a disincentive for investment, especially in the long term. Thus, the prospect of global and regional trade recovery will still be fragile for a few years ahead," said the study.
ESCAP expects that export volume of the Asia-Pacific region in 2018 will grow modestly at 3.5% while the import volume will increase by less than 3%. Export and import prices, especially commodity prices, are not likely to increase, and in fact, may trend downward due to the potential slowdown of investment and consumption precipitated by rising uncertainties. The sluggish prices will cause trade value to grow much slower in 2018 than in this year.
Looking at the breakdown by country, China's export volume is seen to grow by 5.3% this year and 4.6% next year, while Japan's exports are predicted to grow by 1.6% in 2017 and 7.7% next year.
Among select members of the Association of Southeast Asian Nations (ASEAN), the Philippines' export volume is forecast to rise by 13.1% this year and 6.2% in 2018; Vietnam, 9.4% and 5.8%; Malaysia, 9.2% and 5.9%; Indonesia, 4.6% and 1.25%; Thailand, 0.8% and 1.5%; and Singapore, -2.3% and -3.9%.