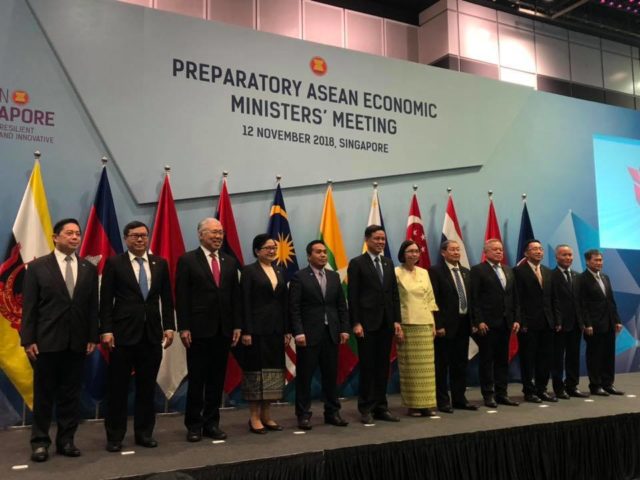 Economic ministers of the Association of Southeast Asian Nations (ASEAN) have signed a landmark agreement to create a more conducive environment for e-commerce in the region.
The ASEAN Agreement on Electronic Commerce was signed November 12 in Singapore amid the 33rd ASEAN Summit and Related Summits that is taking place in the city state until November 15.
In his opening remarks at the signing ceremony, Singapore Minister for Trade and Industry Chan Chun Sing said this is ASEAN's first agreement to facilitate cross-border e-commerce transactions, adding "and I was told that we must be one of the first in the world to have this agreement."
He said this is a testament to ASEAN's commitment to create a conducive environment for the growth of e-commerce through advancing trade rules in e-commerce and building up greater digital connectivity within the region.
Discussions on the ASEAN Agreement on E-Commerce began in June 2017, and the pact was finalized after nine rounds of negotiations, he said. The e-commerce deal has three aims.
Facilitate cross-border e-commerce transactions
Create an environment of trust and confidence in the use of e-commerce
Deepen cooperation among ASEAN member states to further develop and intensify the use of e-commerce to drive regional economic growth
It encourages ASEAN member states to promote paperless trading between businesses and governments to generate more rapid and efficient transactions in ASEAN, said the official.
For businesses, too, it can help them access and move data across borders more easily, subject to appropriate security safeguards.
"ASEAN has also taken active steps to promote better consumer and personal data protection through the use of online dispute resolution mechanisms to facilitate the resolution of e-commerce claims," he continued.
ASEAN is the world's fastest growing internet market, with 330 million internet users. By 2025, ASEAN's internet economy is set to quadruple to US$200 billion from the current $50 billion in 2017, with e-commerce expected to grow to $88 billion.
Sustained economic growth and a young and digitally savvy population are major drivers of this growth, bolstered by increased ICT infrastructure investments by both governments and businesses.
The region's e-commerce potential has attracted many foreign entrants, like Amazon and Alibaba, to set up in the region. More significant is the rise of ASEAN-grown unicorns such as Lazada from Singapore and Tokopedia from Indonesia that have a sizeable presence in the regional e-commerce market today.
"These online marketplaces provide the means for micro, small and medium-sized enterprises or MSMEs to transact online to reach new consumers within and beyond ASEAN," said Chan.
However, e-commerce adoption in ASEAN is still in its infancy compared to China and the U.S. Non-tariff barriers such as logistics and cross-border digital regulations continue to be challenges for MSMEs looking to capitalize on e-commerce opportunities.
This agreement is seen to address these challenges, Chan said.
The ministers also concluded talks to better integrate service sectors in the region, as well as to enhance an existing investment pact so that Southeast Asia remains attractive and competitive for foreign investors.
Another product of the meeting among ASEAN economic managers is the looming conclusion to the final version of the Regional Comprehensive Economic Partnership (RCEP) agreement.
"The overall summary on where we are right now, the RCEP discussion experienced a significant progress this year, reaching final stage of negotiation," Philippine Trade Secretary Ramon Lopez told a press conference there.
The RCEP is a free trade agreement between the 10 ASEAN member states, and the nearby states of China, Japan, India, South Korea, New Zealand, and Australia.
"Everybody can expect its conclusion next year. That's the target date for the conclusion of the RCEP," the trade secretary said.
Photo courtesy of Philippine Department of Trade and Industry