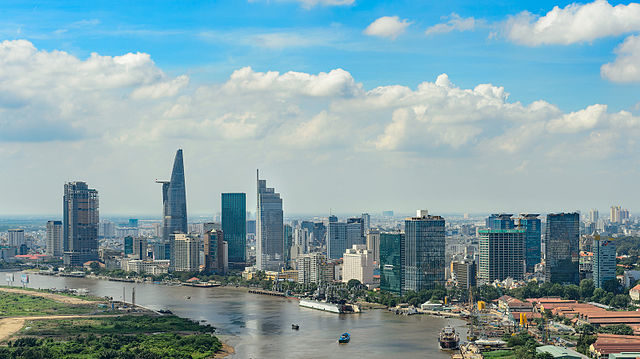 Association of Southeast Asian Nations (ASEAN) member states stand to benefit from the China-U.S. trade tensions, with Vietnam, Malaysia, and Thailand expected to gain the most, according to an economist with HSBC.
While the direct impact of higher tariffs is negative for all, the impact on ASEAN is far less negative than for the rest of Asia as production and exports move from China to other countries, said Joseph Incalcaterra, chief economist for ASEAN of HSBC, a global banking and financial services holding company.
According to HSBC Global Research, if an Asian economy captures 1% of Chinese exports to the U.S. or 1% of foreign direct investment (FDI) into China, its GDP would increase significantly, added Pham Hong Hai, CEO of HSBC Vietnam.
"Vietnam, Malaysia, and Thailand stand to gain most as trade is diverted from China because they export significant amounts of the same products as those impacted by US-China tariffs," said Incalcaterra in an analysis written for HSBC last month.
"The mix of labour and logistical costs is also competitive in some countries, particularly Vietnam and Malaysia," Incalcaterra added.
Thailand's exports have decelerated more sharply because of its large sales of industrial and vehicle components to China. Vietnam's and Malaysia's resilience may reflect increased capacity, as Incalcaterra observed that these two have consistently received the highest manufacturing investment from abroad.
"However, export growth has slowed everywhere since the trade war started and there are few short-term signs that new production or export capacity is outweighing the downward momentum in exports caused by a slowing tech cycle and weaker global growth," Incalcaterra said.
The trade upcycle since 2017 was led by electronics—semiconductor production encompasses a sizeable share of ASEAN's manufacturing—but sales softened throughout 2018, independent of the trade wars. With Chinese exports highly input-intensive, ASEAN suppliers to China are directly impacted.
There is a limit to how much trade can divert without additional investment, said Incalcaterra. FDI has improved since the global financial crisis, but Singapore, Vietnam, and Malaysia receive much more than Indonesia, the Philippines and Thailand. Given their current-account deficits and the need to create export-oriented industries to employ growing labor forces, Indonesia and the Philippines should look into this matter, he added.
But the impact on economic growth of slowing exports will be muted by resilient domestic demand. Fiscal policy will also be expansionary for much of the region, especially Thailand. An expansionary Philippine fiscal budget means government spending on education and social welfare should aid growth. Meanwhile, Malaysia's budget stance is expansionary in the short run.
On Pham Hong Hai's part, he said Vietnam is on top of the beneficiary list with a potential increase of 1.2% from the trade diversion, reported VNA.
Hai also noted that the threat of macroeconomic headwinds dragging global growth should be the impetus ASEAN needs to push its reform agenda harder in 2019.
"Amongst the bearishness, ASEAN remains one of the most optimistic and open regions in the world and in 2019 the region has the opportunity to further distinguish itself by continuing to drive reform and seek increased openness," he added.
ASEAN economies can partly offset any trade downturns if the much-discussed supply chain diversion to Southeast Asia—from China, U.S. and Korea—materializes, but the transition would be more widespread if the ease in which goods and services flow across ASEAN is enhanced, Hai noted. 
Photo: Hieucd