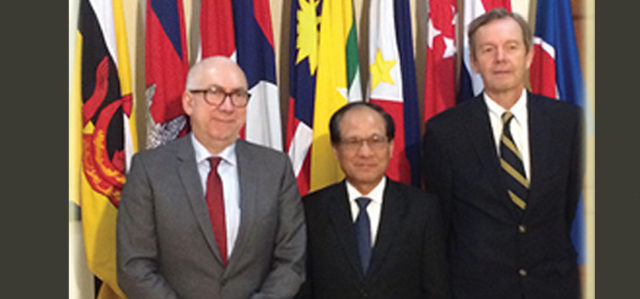 Article from ASEAN
The digitalization of trade in goods and services is providing more opportunities for enhancing economic growth globally, including in ASEAN. ASEAN's young demographic profile, increasing urbanization and growing disposable incomes, are factors driving the growth of the digital economy in ASEAN.
This was highlighted by Secretary-General of ASEAN Le Luong Minh, during the visit of Gerd Billen, State Secretary of the German Federal Ministry of Justice and Consumer Protection, to the ASEAN Secretariat recently.  ASEAN has recently established the ASEAN Coordinating Committee on E-Commerce and is developing an e-Commerce Work Programme which covers several aspects including infrastructure, payment systems and consumer protection.
Billen highlighted the link between economic development in e-commerce and ensuring consumer trust and empowerment, noting the need to build strong institutions and good legal frameworks as well as mechanisms to respond to e-commerce challenges to consumers. Both sides acknowledged the challenges of trading on-line including the need to build infrastructure and to protect vulnerable consumers from on-line fraud and scams.
During the visit, views were exchanged in the areas of cooperation on consumer protection between ASEAN and Germany. It was highlighted that such cooperation could include the modernization of consumer protection laws, taking into account the e-commerce dimensions, putting in place redress mechanisms including on-line dispute resolution systems, as well as capacity building for ASEAN. Germany expressed interest in supporting these initiatives which are also espoused under the e-Commerce Work Programme and the ASEAN Strategic Action Plan for Consumer Protection.
Given the importance of the digital trade and its impact on consumers, Germany, which is holding the Presidency of the G-20 in 2017, will host a Consumer Summit in March 2017, as part of this year's G-20 activities, to highlight the importance of consumer protection and empowerment in the digital economy.