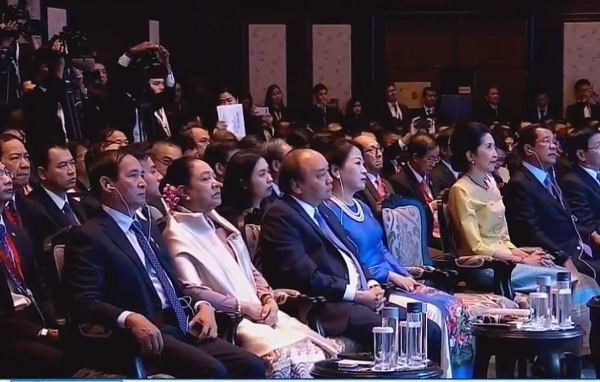 Countries of the Ayeyawady-Chao Phraya-Mekong Economic Cooperation Strategy (ACMECS) have endorsed the Bangkok Declaration and the ACMECS 5-year Master Plan 2019-2023, and are looking to set up a fund to finance cooperation projects.
ACMECS—a political, economic, and cultural organization that was formed in 2003 and that consists of Cambodia, Laos, Myanmar, Vietnam, and Thailand—serves as a mechanism for strengthening economic collaboration and narrowing the development gaps in the subregion.
At the 8th ACMECS Summit held June 16 in Bangkok, Thai Prime Minister Prayut Chan-o-cha said the two documents adopted will set the direction for the community's development and cooperation, reported Thailand's state-run NNBT.
The Bangkok Declaration highlights the commitment of the five member countries to intensify cooperation and implement the masterplan.
The ACMECS 5-year Master Plan 2019-2023 serves as a roadmap to achieve three pillars known as "3S." The three pillars are "Seamless ACMECS," "Synchronized ACMECS Economies," and "Smart and Sustainable ACMECS."
Thailand is also proposing to start a fund as a financing mechanism for cooperation projects under ACMECS.
Under the five-year masterplan, "Seamless ACMECS" will focus on filling in the missing infrastructures and transportation links, as well as the development of digital infrastructure and the interconnectivity of energy networks, said a report from Xinhua News.
"Synchronized ACMECS Economies" focuses on harmonizing trade and investment rules and regulations as well as supporting financial cooperation.
"Smart and Sustainable ACMECS" focuses on human resources development and application of modern technology as well as cooperation in strategic areas and promotion of energy efficiency.
In the first phase, according to Prayut, the five ACMECS countries will focus solely on urgently needed missing links along the East West Economic Corridor and Southern Economic Corridor in the Mekong Subregion, including hardware, digital, and energy infrastructures.
Another priority during this period is harmonizing rules and customs regulations to facilitate trade and investments between ACMECS countries.
"Member countries will work together to find out the missing links shortly after the summit and detail on how to connect these transportation links," said the prime minister.
Moreover, Thailand will be contributing seed money for the ACMECS fund, which will be a main source of funding for joint development projects.
Nikorndej Balankura, Thai deputy director-general of the Department of International Economic Affairs, told a press conference after the summit that the details of the fund and how much Thailand would contribute still need further consideration.
According to the Bangkok Declaration, all ACMECS members "agree to task their senior financial officers to discuss the Terms of Reference (TOR) as well as the detailed operation of the ACMECS Fund in Thailand in 2018 and explore possible ways and means to establish this fund preferably by the next summit." The next summit will be held in Cambodia.
Photo courtesy of National News Bureau of Thailand