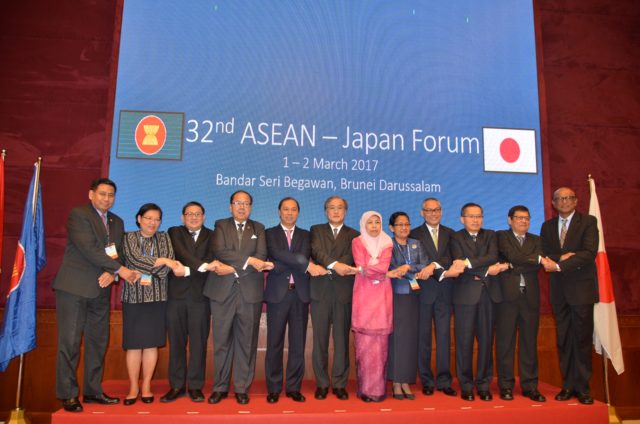 Senior officials from Association of Southeast Asian Nations (ASEAN) and Japan met in Bandar Seri Begawan on March 3 for the 32nd ASEAN-Japan Forum. They reaffirmed the importance of the long-standing partnership between both sides.
Noting the present uncertain regional and international developments, ASEAN and Japan agreed to further strengthen the partnership for mutual benefit. Japan expressed its strong support for ASEAN's efforts to promote peace and stability in the region, including the central role played by ASEAN in regional mechanisms.
The Forum is an annual meeting of senior officials from both sides to take stock of the progress in relations between ASEAN and Japan, discuss subjects of mutual importance including strategic and economic issues and identify new areas of cooperation. Brunei Darussalam, as the present country coordinator for ASEAN's dialogue relations with Japan, co-chaired the 32nd Forum with Japan.
Japan reiterated its commitment to continue support for ASEAN's integration and community-building efforts through its development assistance and capacity-building programmes. ASEAN-Japan cooperation covers many sectors including support for micro, small and medium enterprises (MSMEs), disaster management, health care, education, human rights, youth development, cultural heritage, and sports. Japan will also extend support for ASEAN to realise its connectivity goals and programmes under the Initiative for ASEAN Integration.
On the regional and international situation, subjects of common concern were discussed including maritime security and freedom of navigation, the situation in the Korean Peninsula, the threat of terrorism and violent extremism, non-traditional security issues and emerging threats such as cyber-crime. ASEAN welcomed Japan's close cooperation with ASEAN sectoral bodies dealing with security matters including traditional and non-traditional issues.
In the light of the recent uncertainty over the Trans-Pacific Partnership, Japan and ASEAN underlined the importance of concluding the Regional Comprehensive Economic Partnership expeditiously. – ASEAN