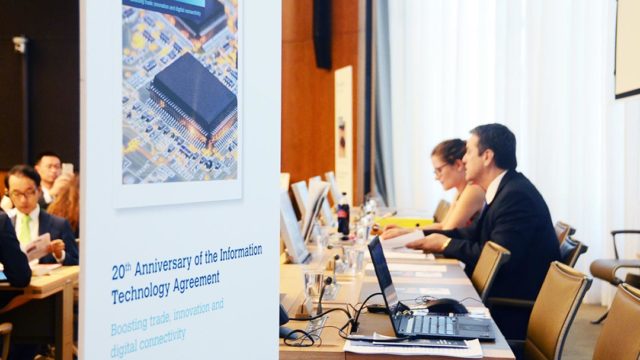 The World Trade organization has launched a new publication entitled "20 Years of the Information Technology Agreement: Boosting trade, innovation and digital connectivity" to commemorate the 20th anniversary of the ITA.
The publication describes how this agreement has evolved over the past two decades and the significant impact it has had on worldwide trade in IT products.
The ITA entered into force in July 1997. Since then, it has committed participants in the Agreement to eliminate tariffs on a wide range of IT products with a current annual value of approximately US$ 1.7 trillion. Its membership has grown to 82 WTO members, which currently cover 97 per cent of world trade in ITA products.
Since the elimination of tariffs is included in their WTO schedules of commitments, ITA participants have extended duty-free treatment to all members on a most-favoured nation (MFN) basis, thereby bringing the benefits of the Agreement to the entire WTO membership.
Launching the publication, Director-General Roberto Roberto Azevêdo said: "In addition to the significant economic impact, the success of the ITA is notable because of what it says about the WTO. It shows that members can work together – in different formats – to tackle the obstacles that they face and bring solutions to the table. I think there are important lessons to learn from this deal. And that's why we have produced the new publication that we are launching today. It reviews the impact of the ITA and its expansion, and shares insights on the role of ICT for development, including its contribution to the 2030 Sustainable Development Agenda." His full speech is available here.
The publication charts how world ITA exports have more than tripled in value over the past 20 years and now represent 15 per cent of total merchandise products, exceeding the shares of automotive products, textiles and clothing, and pharmaceuticals.
The publication underlines how the lower cost and greater availability of computers and mobile phones has resulted in increased access to the Internet and the growth of the digital economy, creating new opportunities for trade. It also looks into the role of the ITA Committee and provides extensive analysis of the evolution of trade under the ITA.
The publication also highlights how the recent expansion of the ITA is reducing tariffs on a further 201 high-tech products, such as touchscreens and medical equipment, with an annual value of about US$ 1.3 trillion.
The full PDF of the publication can be downloaded here. Further details are available here.
The publication launch is part of a two-day event held at the WTO to commemorate the 20 years of the ITA. The agenda is available here. – WTO