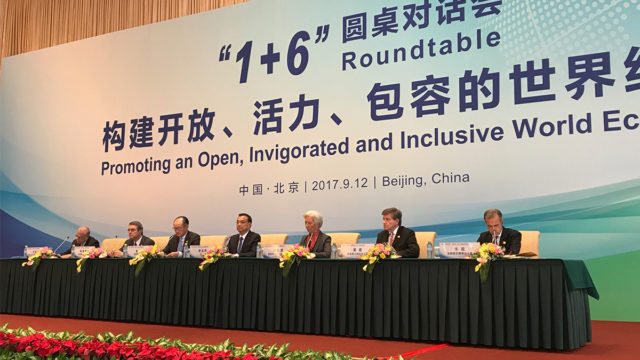 World Trade Organization Director-General Roberto Azevêdo recently visited Beijing, China to participate in the "1+6" roundtable meeting hosted by Chinese Premier Li Keqiang, together with five other heads of major international economic organizations and financial institutions (the International Monetary Fund, World Bank, International Labor Organization, Organization for Economic Cooperation and Development and the Financial Stability Board). They discussed the continued need to promote an open and inclusive global economy, and the central role of the multilateral trading system in this effort.
The Director-General said:
"China's commitment to increased openness will help to drive the economy forward. There is an opportunity now to accelerate reform and focus more on the sustainability and quality of growth. This will support policies to encourage the rebalancing of the economy toward services and consumption. In this context, a focus on skills will be increasingly vital. China is already embracing the technological revolution to upgrade its productive capacity, and support its wider economic rebalancing.
"Upgrading infrastructure is also essential, and the One Belt One Road initiative is very important here. Significantly, the initiative puts a focus on implementing the WTO's Trade Facilitation Agreement. The Agreement will cut China's trade costs by up to 15.8%, helping to increase the country's competitiveness.
"I urge China to maintain their commitment to openness, and to strengthening the system of shared global rules on trade – as embodied in the WTO. I believe that this is vital to maintain the principle of openness as a means to drive economic growth and development. China's continued support and engagement will be vital, including in making progress on a range of important issues at the forthcoming WTO Ministerial Conference in Buenos Aires."
During the visit to Beijing, DG Azevêdo also held a bilateral meeting with Zhong Shan, China's Minister of Commerce. – WTO