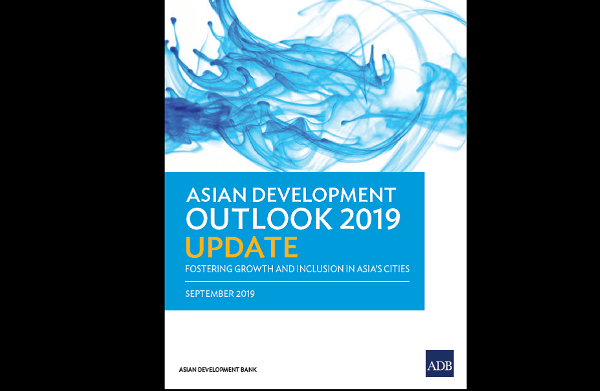 Southeast Asia's economic growth has slowed more than earlier anticipated, leading to the subregion's growth forecast for this year and the next to be revised down, according to the Asian Development Outlook (ADO) 2019 Update, the Asian Development Bank's (ADB) flagship economic publication.
Growth forecast is revised downward from 4.9% to 4.5% for this year and from 5.0% to 4.7% for next year as the subregion is hard hit by persistent trade friction between China and the US, slowing world trade, and weakening global growth, said the update.
Forecasts are downgraded for half of the 10 economies—Indonesia, Laos, the Philippines, Singapore, and Thailand—and unchanged for the other half, with Brunei Darussalam, Cambodia, Malaysia, Myanmar, and Vietnam on track to meet earlier forecasts.
With escalation in the US-China trade conflict, weakening global activity and trade, and a downturn in the electronics cycle, a significant export slowdown in the first half of the year hit the whole subregion except Cambodia.
Softening domestic investment exacerbated export woes in most larger subregion economies—Indonesia, Malaysia, the Philippines, Singapore, and Thailand—but domestic consumption held up well to cushion the slowdown.
For Indonesia, growth is now seen to be slightly down to 5.1% from 5.2% in 2019 and to 5.2% from 5.3% in 2020. "Slightly slower growth this year than last reflects a significant downturn in exports as growth slows in key trade partners, coupled with subdued commodity prices and domestic investment. Growth is still forecast to accelerate in 2020 but less than earlier envisaged," said the report.
For Malaysia, GDP growth in 2019 is still pegged at 4.5% and in 2020 will remain at 4.7%. As an economy highly dependent on trade, Malaysia can expect to see its near-term growth prospects dragged down by the persistent US-China trade conflict. Exports will likely continue to languish, though over the longer term the country may benefit from production relocating from China. In any case, domestic demand should hold up and continue to support the economy, the report said.
Philippine economic growth is now seen to be slightly lower than foreseen, to 6.0% from 6.4% for 2019 and to 6.2% from 6.4% in 2020, reflecting a slowdown in the global economy and in domestic investment. With domestic private consumption holding up well and accommodative fiscal and monetary policies, economic growth should recover in the near term.
The Thai economy is slowing more than anticipated, the forecast now down to 3.0% in 2019 from 3.9% earlier, and to 3.2% from 3.7% in 2020, said the update. "Although domestic consumption is holding up well, unexpectedly weak exports and domestic fixed investment are now seen to drag down GDP growth this year and next, much more than what was foreseen in April."
Trends in Vietnam for the first half of the year support April forecasts for moderate deceleration this year and next following exceptionally high growth in 2018. Growth in 2019 is kept at 6.8% and in 2020 at 6.7%. Despite a slowdown in exports, the economy remains broadly healthy thanks to resilient domestic demand and sustained inflows of foreign direct investment.
For the other economies in Southeast Asia, forecast for Brunei Darussalam is unchanged at 1.0% for 2019 and 1.5% for 2020; and Cambodia also unrevised at 7.0% for 2019 and 6.8% for 2020. Laos's GDP growth forecast has been lowered to 6.2% for both years, down from 6.5% from the earlier forecast; while Myanmar's remains steady at 6.6% for 2019 and 6.8% for 2020. Singapore is down to 0.7% for 2019 from the previous 2.6%, and 1.4% from the earlier forecast of 2.6% for next year.
The subregional outlook is subject to significant risks, both external and domestic, said the ADB report. "Growth could be slower than currently foreseen if the US-China trade conflict escalates further or if global trade tensions morph into a widespread currency war, injecting volatility into international financial markets."
On the domestic front, unexpected delays in implementing major infrastructure projects, particularly in the Philippines and Thailand, would pose risks to growth prospects. In the Philippines, growth prospects hinge as well on how quickly the government catches up on its public spending commitments after the delays experienced in the first half of the year.
Image courtesy of ADB