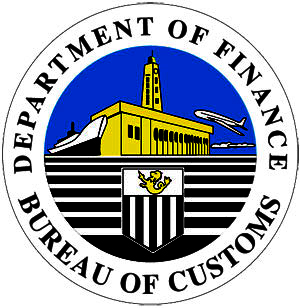 Philippine President Rodrigo Duterte has appointed five new senior officials of the Bureau of Customs (BOC).
In separate letters signed on October 17 by Executive Secretary Salvador Medialdea, five offices in BOC were filled with new chiefs, namely : Natalio C. Ecarma III, deputy commissioner, Revenue Collection Monitoring Group (RCMG); Ariel F. Nepomuceno, deputy commissioner, Enforcement Group (EG); Teddy Sandy S. Raval, deputy commissioner, Intelligence Group (IG); Edgar Z. Macabeo, district collector, Port of Ninoy Aquino International Airport (NAIA); and Vincent Philip C. Maronilla, district collector, Manila International Container Port (MICP).
Two other deputy commissioner positions (Assessment and Operations Coordinating Group [AOCG] and Management Information System and Technology Group [MISTG]) are still vacant along with some district collectors'.
The deputy commissioner for the Internal Administration Group remains Atty Arturo Lachica.
The Customs Personnel Order for the officials' appointment was signed on November 2 by Customs Commissioner Nicanor Faeldon and takes effect immediately.
Ecarma, a retired major general and Philippine Military Academy graduate, was former undersecretary for Defense Operations at the Department of National Defense. He was appointed in 2010 by United Nations secretary general Ban Ki Moon as Head of Mission and Force Commander of the United Nations Disengagement Observer Force, giving him the distinction of being the first Filipino to head a UN Peacekeeping Mission. Ecarma also served, among others, as Deputy Commandant of the Philippine Marine Corps and Commander of the Marine Forces Southern Philippines.
Nepomuceno and Raval are returning BOC officials. Nepomuceno was EG deputy commissioner during the term of former Customs commissioners John Sevilla and Alberto Lina, while Raval was former Enforcement and Security Service (ESS) director during the time of Lina.
Prior to being ESS director, Raval was acting chief of BOC's Intellectual Property Rights Division during the time of Sevilla. When Sevilla resigned, he disclosed he had discussions with some top government officials who wanted Raval reassigned to IG. Sevilla, who refused to reassign Raval, said he was told Raval's re-assignment was being pushed by Iglesia ni Cristo, a powerful religious group.
Macabeo was formerly acting district collector at NAIA, while Maronilla was officer-in-charge of Import Assessment Service (IAS) at BOC's AOCG.
Customs enforcement OIC relieved
Earlier, BOC has relieved the officer-in-charge (OIC) of the EG just two months into his designation, following President Duterte's pronouncement that he wanted a corrupt official removed from the bureau.
Faeldon signed on November 2 the order that relieves Arnel Alcaraz from his position and designates Isabelo Tibayan III as temporary replacement. Alcaraz was appointed to EG, along with other OICs for other BOC offices, last August to fill positions that were left vacant with the change of administration.
Duterte in a press briefing on November 1 said he wanted a Customs "deputy for intelligence" suspended and removed from office for alleged corrupt practices. The president did not name the official, saying he had yet to talk to Faeldon about the matter.
"We are assuming (that it was Alcaraz) because we have not received any other formal charges against the other deputy commissioners. So since na-mention siya ni (Since he was mentioned by the) President kahapon(yesterday), it is safe to assume he was referring to him," Faeldon's chief of staff Mandy Anderson said in a statement.
"Wala pang dumarating sa amin na any complaint against him (We have yet to receive any complaint against him). So we will be working hand-in-hand with the NBI to get whatever complaint was filed, and then we will initiate administrative investigation against him accordingly," Anderson said.
A graft case against Alcaraz for alleged extortion activities has reportedly been filed with the National Bureau of Investigation (NBI). BOC said it is currently working with NBI to gather the affidavit of the complainants and other evidence for the investigation.
Alcaraz was also among more than 20 Customs officials to be transferred to the Customs Policy Research Unit of the Department of Finance, a unit created as part of reform measures by the BOC under the previous administration. Alcaraz and other officials filed a case opposing the transfer, saying it was illegal; the Supreme Court later decided in their favor.