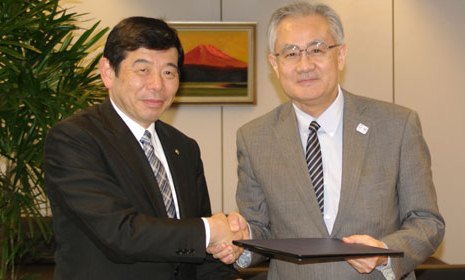 The World Customs Organization (WCO) is set to launch a new initiative to help customs administrations in Southeast Asia implement tighter security measures against terrorism.
The project, to be backed by US$7 million in financial support from the Japanese government, is part of a drive to further expand the reach of the WCO Security Programme in the Asia-Pacific region, WCO said.
The latest WCO initiative will specifically focus on border security-related challenges in Southeast Asia.
"Our new Customs counter-terrorism initiative demonstrates the collective determination of the Customs community to effectively fight global terrorism and its negative impact on the international trade," said WCO Secretary General Dr. Kunio Mikuriya.
"This initiative enables us to actively support Customs administrations and other relevant stakeholders in the region to implement all necessary measures to further secure the supply chain and combat terrorism," he added.
Mikuriya met the Japanese Ambassador to Belgium, Masafumi Ishii, at the WCO headquarters in Brussels, Belgium on February 22, 2017 for the exchange of a note verbale on the contribution by the government of Japan to fund the security project in the Asia-Pacific region.
Key components of the counter-terrorism campaign include the continued use of the WCO's Programme Global Shield as a vehicle to reduce terrorist organizations' ability to obtain improvised explosive devices, including the diversion of chemicals and other parts used in their manufacture.
Other major goals are the use of advance passenger information and passenger name records for risk analysis on passengers in order to stem the flow of foreign terrorist fighters and other terrorist groups, and a reduction in the ability of all terrorists to obtain small arms and light weapons.
At the G7 Summit held in Ise-Shima, Japan on May 26 and 27, 2016, the leaders adopted the G7 Action Plan on Countering Terrorism and Violent Extremism, which made specific mention of the WCO Security Programme as a means of enhancing border security and assisting WCO members to counter the threat posed by terrorists and other criminal organizations.