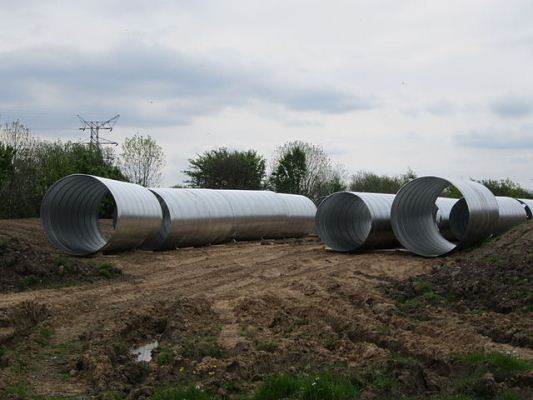 South Korea's trade ministry is considering filing a complaint with the World Trade Organization (WTO) should the United States decide to impose heavy duties on steel products from a selected list of countries.
The U.S. Department of Commerce on February 16 recommended that President Donald Trump levy a tariff of 24% on all steel imports or a quota for steel imports of 63% of last year's level based on national security grounds, using the seldom-used Section 232 of the 1962 Trade Expansion Act.
Another option is levying a 53% tariff on steel imports from 12 countries including South Korea, Brazil, and China.
"We will actively consider filing a WTO complaint if (the U.S.) decides to impose duties on the select 12 nations," Kang Sung-cheon, deputy minister of trade, said in a briefing February 19, as quoted by Yonhap News. "It won't be easy (to get exemption from the list)."
Seoul's inclusion in the list is frustrating since other close allies of the U.S. such as Canada, Japan, and Germany were excluded from the extra tariff though they are among the top 10 steel exporters, said the report.
Kang said South Korea may have been targeted due to its importing of Chinese steel, as the U.S. has long complained about global oversupply caused by China. He said outreach efforts will be made to clarify that South Korea's imports of Chinese steel do not target the U.S. market. Of steel exported to the U.S., Chinese products account for a mere 2.4%, he said.
Korea-US FTA 'unfair'
Meanwhile, a ranking official from the presidential office said South Korea's President Moon Jae-in believes the bilateral free trade agreement (FTA) between his country and the United States was an unfair deal, hinting at a possible South Korean attempt to revise the trade pact.
This came shortly after Moon told his top aides February 19 to consider filing a WTO complaint against what he called unfair U.S. trade protectionist measures.
"The President believes the Korea-U.S. FTA is unfair largely in that the FTA precedes all other laws in South Korea, but in the U.S., federal law comes before the FTA," the official told reporters February 19 while speaking on condition of anonymity.
Moon's remarks came after the U.S. slapped a punitive import tariff of up to 50% on large washing machines from South Korea, one of its key allies, while also moving to take similar measures against South Korean steel.
The allies are already in negotiations to revise their FTA, a move initiated by Washington.
The official's remarks apparently hinted at possible efforts to change the FTA so it may carry equal weight in both countries
Photo: Rept0n1x