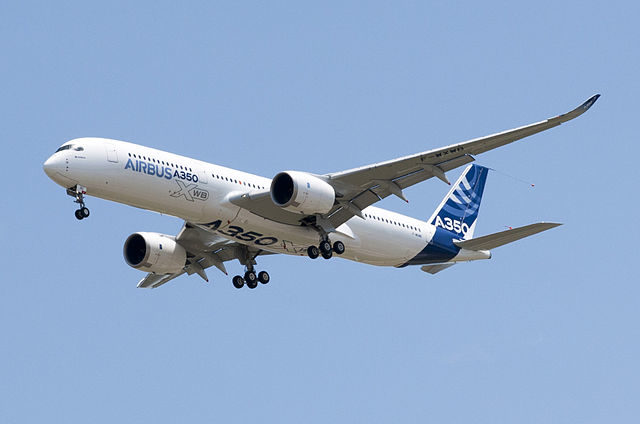 U.S. top aircraft manufacturer Boeing Co. has called "a landmark decision" a ruling by the World Trade Organization (WTO) May 15 determining that the European Union (EU) had provided billions of U.S. dollars in subsidies to European aircraft maker Airbus.
In a statement on its website, Boeing said the WTO has found in its final decision that the EU has failed to honor multiple previous rulings and has provided more than "$22 billion of illegal subsidies" to its business archrival Airbus.
"After examining this case for more than a decade, the WTO has determined the EU must end its unfair business practices and remedy the ongoing harm caused by the illegal subsidies," said Boeing.
"Today's decision ends the dispute and clears the way for the United States Trade Representative (USTR) to seek remedies in the form of tariffs against European imports to the United States," it added.
It further said that the authorized tariffs are likely to total billions in duties per year, "unless and until Airbus addresses the illegal subsidies it received from European governments for its most recently launched airplanes."
"It is anticipated that U.S. tariffs will be authorized up to the amount of annual harm this market-distorting tactic is causing. Tariffs could be scheduled as early as 2019. This is expected to be the largest-ever WTO authorization of retaliatory tariffs," said Boeing.
On its part the USTR said, "The Trump Administration today achieved an important victory in its World Trade Organization (WTO) dispute with the European Union (EU) and four of its member States regarding subsidies to Airbus."
U.S. Trade Representative Robert Lighthizer said. "This report confirms once and for all that the EU has long ignored WTO rules, and even worse, EU aircraft subsidies have cost American aerospace companies tens of billions of dollars in lost revenue."
The United States has accused European governments of providing favorable loans to Airbus for its A380 superjumbo and the A350 long-range jet that compete with Boeing's 747 jumbo jet and 787 Dreamliner, respectively.
Said the USTR: "The appellate report issued today found that EU subsidies to high-value, twin-aisle aircraft have caused serious prejudice to U.S. interests. The report found that billions of dollars in launch aid to the A350 XWB is causing significant lost sales of Boeing 787 aircraft.  The report found that subsidies to the A380 continue to cause significant lost sales of Boeing 747 aircraft, as well as impedance of exports of Boeing very large aircraft to the EU, Australia, China, Korea, Singapore, and UAE markets."
Airbus, EU downplay impact
Meanwhile, Airbus in a statement on its website said the WTO ruling confirmed that there were no prohibited subsidies made at Airbus. It also said the decision confirms compliance was fully achieved on the A320 and the A330, with "remaining tweaks on A380 and A350 only minor."
At the same time, "94 percent of all US / Boeing's original claims [have now been] dismissed by WTO," said the European airplane producer.
"Any potential US sanctions, now likely to be minor compared to what we expect on the European case against Boeing, would be counter-productive, ill-timed and ultimately harmful to the airlines and passengers," said Airbus.
It insisted that the WTO report is only "half the story." "The much more interesting part—on Boeing's more egregious and competition-damaging subsidies—[will] come later this year."
Last year, the WTO ruled that the Washington state business tax rate reduction—worth about $800 million to Boeing since 2004 through 2016—was an illegal subsidy and that Boeing had failed to fix it. The U.S. appealed that ruling, with a decision due in about nine months. If it loses, Boeing will be in the same position Airbus is in now.
Supporting Airbus, EU Trade Commissioner Cecilia Malmström said the WTO "has definitively rejected the US challenge on the bulk of EU support to Airbus."
Photo: Don-vip