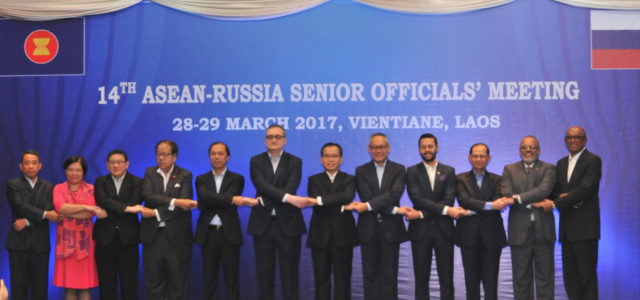 VIENTIANE, 30 March 2017 – ASEAN and Russia have agreed to expand cooperation in various areas to further enhance the partnership. This was a key focus of the  discussions at the 14th ASEAN-Russia Senior Officials Meeting (ARSOM) held in Vientiane, Lao PDR, yesterday.
The 14th ARSOM explored ways to expedite implementation of the proposals to strengthen the partnership contained in three ASEAN-Russia framework documents. These are the Sochi Declaration (issued in conjunction with the Sochi Summit), the ASEAN-Russia Comprehensive Plan of Action 2016-2020, and the Report by an ASEAN-Russia Eminent Persons Group established in 2016, which contained recommendations to move the partnership forward.
ASEAN welcomed Russia's interest in strengthening collaboration in functional areas such as science, technology and innovation, health, education, agriculture and food security, energy, transport, tourism and disaster risk reduction. The senior officials also agreed to explore opportunities to enhance cooperation in areas of common interest such as combating terrorism and violent extremism, transnational crime, non-traditional security threats and cyber security.
On economic cooperation, both sides agreed on the importance of involving the business sectors through trade missions and fairs. ASEAN also agreed to explore further Russia's proposal for a free trade agreement between ASEAN and the Eurasian Economic Union.
The meeting welcomed Russia's decision to appoint a dedicated Ambassador to ASEAN based in Jakarta. This is seen as a reflection of Russia's commitment to enhance engagement with ASEAN. This official is expected to assume office by August 2017.
The senior officials exchanged views on recent regional and international developments and emerging global trends. ASEAN officials welcomed Russia's continued active participation in the ASEAN Regional Forum, the ASEAN Defense Ministers Meeting Plus and the East Asia Summit, and its reaffirmation of support for ASEAN's central role in these mechanisms.
Russia will organise a number of special events, including cultural performances to join ASEAN in the commemoration of its 50thAnniversary.
The ASEAN- Russia Dialogue Relations were established in 1996. Russia hosted the Commemorative Summit to mark the 20thAnniversary of ASEAN-Russia Dialogue Relations in May 2016 in Sochi, where Leaders from both sides agreed to establish a more comprehensive and substantive partnership.
The 14th ARSOM was co-chaired by Thongphane Savanphet, Deputy Minister of Foreign Affairs of the Lao DPR and Igor Morgulov, Deputy Minister of Foreign Affairs of the Russian Federation. – ASEAN